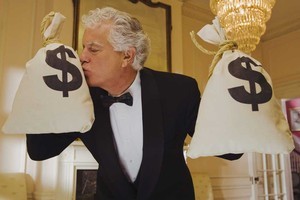 Why do many Kiwis live on Struggle St, just scratching a living, their income barely covering the bills, while others are wealthy, living in big houses, driving posh cars and holidaying in Europe every year? Why do some escape poverty and become millionaires while others do not?
Here are 10 simple steps almost any New Zealander with ordinary luck and health can follow in order to hit $1 million and retire early at 55 years old. Money is not everything but if you decide you want to be rich, what is the best and easiest way to do it?
1. Study hard and do your best at school and college. Education has been the pathway out of poverty for millions of Kiwis over the years. Education level is a key factor in deciding the haves and have-nots in any society. Fall off the education ladder and a lifetime of poverty could be staring you in the face.
2. Buy at least one house. I was as poor as a church mouse until I was 30 years old, by which time I was fed up paying out piles of hard-earned money in rent.
So I borrowed from my dad and bought a rundown property which I renovated. Buying property has helped heaps of Kiwis become millionaires.
3. Be very, very careful who you fall in love with and particularly who you have children with. Marry A and you will have a fair chance of becoming a millionaire, but marry B and be sentenced to a lifetime of poverty. Remember also that divorce can seriously damage your wealth. Two incomes are often crucial to becoming a millionaire family. Divorce tips many adults and children into poverty, as many of New Zealand's 200,000 single parents have discovered the hard way.
4. Do not have children early in life - and limit their number. Children are frighteningly expensive to feed, clothe, educate and entertain. Just one child can cause a lifetime of financial misery for the unprepared. Being childless is probably the easiest way to become a millionaire.
5. Be nice to your relatives. Inheritance is a major factor in creating wealth. Virginia Woolf could only afford to become a full-time writer after she inherited money from her aunt, who was killed in a horse riding accident in India. Relatives can also drag you down, so be careful about lending them money.
6. No luck in NZ? Expand your horizons and head to Australia where Outback nurses are paid A$70,000 ($92,000) a year, or to Britain and its super salaries, or teach English in Japan or South Korea. Not many people become millionaires by staying in their hometown. I landed a $100,000-a-year teaching job in Tokyo, and over four years saved enough money to buy a house in Auckland mortgage-free.
7. Limit your spending on alcohol, cigarettes, illegal highs and gambling, which all cause huge amounts of poverty and misery worldwide. A pack of 20 cigarettes wastes $12 a day, $84 a week, $4368 a year, $43,680 a decade. So give it up today. Just $20 a week wasted on Lotto or pokies costs $1040 a year, $10,400 over 10 years. Becoming a millionaire usually results from thousands of small, sensible decisions spread over decades rather than one mega deal or stroke of luck.
8. Do not spend more than you earn. Only a fool borrows money on a credit card at 19 per cent. Pay off mortgages as quickly as you can. Taking short showers, growing your own vegetables and buying second-hand cars are small things in themselves, but frugal habits pay big dividends over time. Saving $25 a week buying home-brand goods adds up to saving $26,000 over 20 years.
Saving can be the road to millionaire status, sacrificing fun now for fun later. Save $200 every week from the age of 20, and at 55 you will have over $1 million, assuming a modest after-tax return of 3.5 per cent a year and reinvesting the interest. The catch is prices will probably more than double over the next 35 years.
9. Avoid risky behaviour. One drink/drive accident can seriously damage your health, both physically and financially. Accidents and illnesses are a major cause of poverty, and not all are down to bad luck.
10. Simply working nights as a supermarket shelf-filler in addition to your main job can help you become a millionaire. One person did this to pay the mortgage on a lifestyle property that is now worth over $1 million. New Zealand's most successful horse trainer worked three jobs as a youngster to save enough money to buy his first farm.
Work hard and dream. There are a million paths to becoming a millionaire, just as there are a million paths to poverty and hard times. Everyone finds their own way. My brother dropped out of catering college to work as a deck hand on a billionaire's luxury yacht, but then studied navigation and worked his way up to be the captain.
Life is uncertain - an illness, an earthquake, a burglary, a divorce, a pregnancy or one foolish mistake can seriously dent your financial assets. You just have to pick yourself up and start again.
Never listen to politicians who promise to help the poor - you will be waiting forever.
In the real world it is up to you, not the government. The only way up is to get off welfare and out of a state house and avoid people and habits that drag you down. Make the right choices and follow in the footsteps of the millions of ordinary New Zealanders who have escaped poverty through their own efforts.
Martin Robinson is a freelance writer living in West Auckland - hotchoco7@hotmail.com.