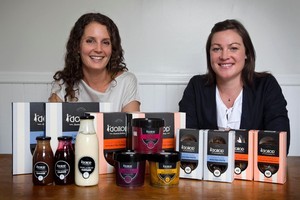 For most New Zealanders, the next few days will be devoted to last-minute Christmas shopping and finishing up at work. For the two young women behind the Dollop Puddings brand, Christie McCarthy and Julia Crownshaw, this is the biggest week of the year for their Vanilla Bean Custard and they are up to their elbows in it.
The two entrepreneurs have only recently gone full-time on their food business, which they launched in May, 2009. They had jobs in the food industry and were working on their products in the evenings and early mornings.
The Dollop Puddings range includes Chocolate Molten Torte, Sticky Date Pudding, pots of Gourmet Fruits, such as rhubarb and raspberry and the dessert accompaniments, Vanilla Bean Custard, Drizzly Chocolate Ganache and Raspberry and Boysenberry Compote.
"It is food which real foodies recognise as good quality but don't have time to do themselves," says McCarthy.
They won the Cuisine Artisan award 2011 for the Vanilla Bean Custard.
The idea for the company came about over dinner a few years ago.
The two friends, who met at Otago University, worked together at Tip Top and went to the UK, decided to brainstorm about starting a business over a meal.
Crownshaw was in charge of the main course and McCarthy, the dessert. Stopping at the supermarket to find something to contribute, McCarthy was shocked at the lack of choice. "There was really nothing there that fitted the occasion," she says.
In the UK, Marks & Spencer and Waitrose had always done it well. She arrived at dinner, saying, "I know what we are going to do."
They bombarded their friends at dinner parties with different concepts. Their work colleagues have also been encouraging.
"Lots of people, from different parts of the company, said if you need help in this area let us know," says McCarthy, who worked in marketing at Griffin's until November.
Both McCarthy and Crownshaw went part-time before leaving completely. Going full time on the business, was a bit scary, McCarthy says.
"But we did it progressively, and by then felt that it was a concept that was going to work."
The two directors are well matched in their skills. Crownshaw, a food technologist, who worked with a high-end chocolate company in the UK, and most recently for Healtheries, is in charge of product development, operations and manufacture at Dollop. McCarthy does sales, marketing and finance.
Dollop Puddings started off selling to the speciality food store Farro Fresh and are now in Nosh, Moore Wilson's and in selected New World and Countdowns - a total of 65 stores altogether.
Crownshaw and McCarthy have had a business mentor from the beginning, David Granger, a former GM of EasiYo.
The pair has just signed up an investor who has taken a 20 per cent shareholding. He has other interests in food businesses.
The two entrepreneurs have their sights on Australia and beyond. They have concluded it is best to go through a distributor there and intend doing some of the food shows in New South Wales and Victoria.
As an exit strategy, McCarthy says she likes the Charlie's example, but she knows she and Crownshaw haven't done their 10,000 hours quite yet.
Meanwhile, they will be extending their range.