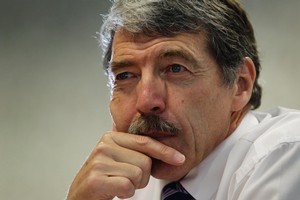 Doug Heffernan is buzzing about the prospect of leading Mighty River Power on to the stock exchange.
While there's nervousness among some within State Owned Enterprises and the energy sector about the part privatisation, Heffernan is not suffering from stage fright.
For Heffernan it is another leg of a journey to company front man from the backroom maths whiz who spent eight years studying electrical engineering at university and whose doctoral thesis was on high-voltage power lines.
The Auckland-based company, worth between $3.4 billion and $3.8 billion, is ready to be partially sold, he says. "I truly believe the company can flourish under a mixed ownership model."
It is confidence born of 13 years in his role at Mighty River and being able to tell what is acknowledged even by competitors as a good story about revenue growth and diversity of generation.
He's also been there before. In 1991 Heffernan was appointed chief executive of the Waitemata Power Board and over the next six years he took the power company through corporatisation, a merger with the Thames Valley Power Board, rebranding as Power NZ, and a stock exchange listing.
It was a bruising process involving controversial share giveaways to consumers, a hostile takeover battle over four years and ultimately the ouster of Heffernan and his management team.
The experience of being the public face of a company in transition left him better prepared for his MRP role.
"You're learning to deal with merchant banks, fund managers and institutions. It was all new to me."
His worst time at Mighty River Power also taught him some lessons.
A contractor to retail arm Mercury Energy cut power to medically dependent Folole Muliaga, who died several hours later in 2007. The company was initially ponderous in the face of outcry from the incident that was reported around the world.
"On the media side, I'd play things differently if that happened again. I would probably think about it differently in how I fronted up. Maybe the engineer in me was a handicap."
On partial privatisation he says it's up to the Government owner to decide when and how the company is partially sold but it is ready, and necessary for growth.
Demand for power in New Zealand has been stagnant for the past three years and there is no end in sight to the costly churn of retail customers who are swapping energy companies at a record rate. "Unless there's a return of manufacturing from China to New Zealand, it's hard to see that electricity demand taking off. The opportunities for further growth in New Zealand are fairly limited in the next five or six years."
That's why Mighty River is capitalising on its geothermal expertise and invested US$250 million in joint ventures in California, Chile and Germany. Shareholder equity is essential to do more in what still is something of a "black art", Heffernan says. "Compared to wind you have to put risk capital out front - it's a bit like oil and gas. You have to drill quite expensive holes to prove a resource before you put a power station there."
The US$250 million commitment over 10 years is not big given a single geothermal power project can cost up to $400 million, but a signal of intent. "We went down that track because we are a 100 per cent state-owned enterprise and we knew we'd have limited access to capital and there would be a natural reservedness about investing offshore."
The existing shareholder - the Crown - was not about to borrow to fund overseas ventures, the company could not borrow itself to fund exploration work. "This is risk capital. You really need equity capital as you can't do this early stage development in geothermal with debt - nobody does," he says.
Mighty River Power has about 20 per cent of the generation market and roughly the same proportion of the retail market in New Zealand.
This would always be its core business, Heffernan says. The other state-owned power companies, Genesis Energy and Meridian Energy, are not seen as quite as market-ready as Mighty River.
Heffernan says during his tenure he's worked towards instilling disciplines that will ease the transition to NZX listing. He's also built an executive team that has skills from outside the energy sector.
A former chairwoman, Carole Durbin, worked with Heffernan for 11 years and says team building has been one of his skills. Strategic thinking and "leading from the front" were others.
Heffernan says he's a "competitive bugger" which was born out of playing sport with his five siblings on the family sheep and beef farm near Gore and later first-class rugby for Canterbury, the junior All Blacks and the New Zealand Universities side which beat the Lions in 1977.
The Rugby Almanack from the year before that describes the fullback as a powerfully built player who was "sound on defence and eager to crash through on attack".
He didn't go on to the All Blacks which was disappointing at the time.
"I was probably on a short list. With the wisdom of hindsight I can understand why I didn't make it."
Former Canterbury teammate, and All Black, Billy Bush said he wasn't surprised Heffernan had gone on to big corporate jobs. "He was one of the brains trust of the team and a lot of them have done very well."
His University of Canterbury lecturers included academics attracted to researching New Zealand's unique electricity challenges. Contemporaries included Keith Turner who went on to head Meridian.
Heffernan worked at the NZ Electricity Department - which was to become the Electricity Corporation - researching alternative energies such as wind and wave power.
It was there that he made the leap from the technical to the corporate world under the leadership of Drew Stein and Rod Deane as privatisation in the sector loomed.
His skills as a generalist were honed.
"I'm probably not a good engineer. I wouldn't trust myself to build anything but I'm relatively creative in a conceptual sense. The strength I had in engineering was maths and maths is a great discipline to take you into economics and finance."
Doug Heffernan
* Age: 58
* Has two adult daughters.
* Married to Pilar.
* Born and raised near Gore, Southland, with five brothers and sisters.
* Education: Gore High School, Canterbury University.
* Top qualification: PhD engineering (Power systems).
* Career: 1980-81: Power engineer, ABB Zurich, Switzerland.
* 1982-83: Electrical engineer, NZED, Dunedin.
* 1983-87: Transmission development engineer, NZED, Wellington.
* 1987-91: Wholesale marketing manager, Electricorp Marketing, Electricorp, Wellington.
* 1991-93: CEO, Waitemata Power Board, Auckland.
* 1993-97: CEO, Power NZ, Auckland.
* 1998-present: CEO Mighty River Power, Auckland.