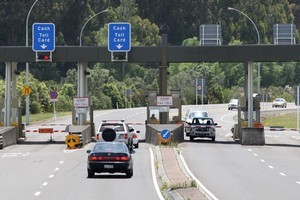 The Automobile Association is annoyed at being lumped into a submission by Auckland business leaders suggesting a region-wide transport toll could raise money for costly projects.
"They have completely misrepresented the AA's position on this," spokesman Simon Lambourne said of the Auckland Business Forum's submission on the draft 30-year Auckland plan.
The submission, which lists the AA among the forum's eight member organisations, strongly recommends investigating the option of funding large projects collectively through a network-wide package involving a "small" toll charge.
It suggests a possible daily charge of $2 for public transport users as well as for car drivers, which it estimates would raise more than $700 million a year, enough to repay a loan for plugging a $10 billion funding deficit.
The forum's top transport priority is an east-west highway corridor from Pakuranga to Onehunga likely to cost about $2.5 billion, followed by the $2.4 billion central city rail tunnel proposal and then another Waitemata Harbour crossing for up to $5.3 billion.
It says in its submission that a modest network-wide transport levy would be fairer on daily commuters from North Shore than a possible $6 toll on the new crossing and the existing harbour bridge, as suggested by Transport Agency consultants.
But Mr Lambourne said the AA had simply given its approval for a submission calling for transport projects to be funded on an equitable basis, balancing principles of fairness and user-pays.
That did not include charging tolls for existing roads which motorists had already paid to build through fuel taxes.
"We've said the AA will support the introduction of tolls to pay for new roading projects, subject to free alternative routes being available and tolls being removed once the debt has been paid off," Mr Lambourne told the Herald.
"But we strongly object to the suggestion that tolls should be introduced on existing roads." There was no way the business forum could have interpreted the AA's approval of the principle of equitable funding as support for network-wide tolls.
AA members strongly believed the Government and the Auckland Council should be the primary and secondary funders respectively of transport projects "and then if they need more money after that, they can come to motorists saying they would like some more funding".
A call by Auckland Mayor Len Brown for motorists to pay for 30.9 per cent of the central rail tunnel - his top priority transport project - on top of 50 per cent from the Government and just 16.6 per cent from the council was "a no go" for the AA.
Business forum project co-ordinator Tony Garnier said the organisation's submission was not categorical in its toll suggestion.
"It is tending towards some form of road pricing or strategic network charging, but it's not categorical and it allows for further assessment from the Government," he said.
"We are just trying to get some action up the mast and this toll idea is obviously one of a whole package of options - it's a preliminary option."
Other funding options included more Government borrowing or issuing infrastructure bonds.
The Northern Employers and Manufacturers Association, also a business forum organisation, supports, in principle, imposing a network charge to pay for transport projects, but only those that have undergone rigorous economic analysis.
In a submission on the Auckland Plan, the association said it also supported, in principle, the city rail tunnel, but wondered whether more busways would be a better investment.