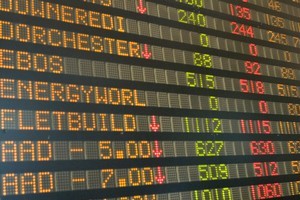 New Zealand stocks fell yesterday, with carpet maker Cavalier one of the biggest losers after it slashed its forecast earnings for the full year because of tepid consumer demand and surging wool prices.
The NZX-50 fell 29.85 points, or 0.9 per cent, to 3250.89. Falls numbered 30, six stocks rose and 14 were unchanged. Turnover was $94.3 million.
Cavalier fell 4.2 per cent to $2.54 after slashing its forecast earnings by as much as half from the previous year's profit. It is the latest in a string of companies to cut their earnings guidance, including Fletcher Building, Sky Network TV and Methven.
Shane Solly, portfolio manager at Mint Asset Management, said demand for carpets was weak with the global economic downturn sapping households' appetite for major renovations and purchases.
"Clearly the downgrade is telling us things are challenging out there."
Stocks also fell in Australia, with the S&P/ASX 200 index down 1.7 per cent in afternoon trading.
Dual-listed financial stocks including Westpac, ANZ and and AMP all declined. Westpac fell 2.7 per cent to $26.85, ANZ fell 3.1 per cent to $26.35 and AMP fell 0.7 per cent to $5.60.
Gold miner OceanaGold was the biggest loser, falling 5.7 per cent to $2.98.
Shares in Telecom fell 3 per cent to $2.45 as the separation date of its retail and network businesses draws nearer. The phone company still has some outstanding issues to deal with, after a Supreme Court ruling that leaves it open to refunding levies paid under the now-defunct Telecommunications Service Obligations.
Kathmandu shares dropped 0.8 per cent to $2.55 after the outdoor equipment retailer said quarterly sales rose 16 per cent to $56 million.
Jeweller Michael Hill International was the biggest gainer, rising 1.1 per cent to 90c.
Guinness Peat Group was unchanged at 62.5c.