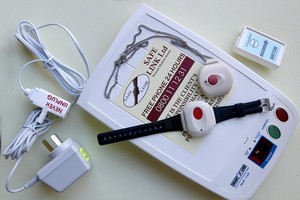 An upset internet customer says he was asked to turn off a life-saving medical alarm for a woman recovering from brain surgery.
But Slingshot, his internet provider, said it expected someone would have been with the woman at the time had the alarm needed to be turned off as part of testing to find a service problem.
The Wellington man, who the Herald on Sunday has agreed not to name, had opened a Slingshot account for his 81-year-old mother, who lived in the South Island.
When he rang to report the internet connection was repeatedly dropping out, he then spent two hours performing checks he said could not have solved the problem.
He said he was told to disconnect all other equipment from the phone, including his mother's medical alarm.
The man said the advice was contrary to his 30 years' experience as a computer engineer and refused to do it. "Her state of health is precarious," the man subsequently wrote to Slingshot owner Malcolm Dick.
"She is recovering from brain surgery, struggles with mobility. She relies on and has had her life saved by a fixed wiring medical alarm."
The customer said it was a frustrating experience and the help desk refused to assist him further because it said he was not cooperating.
Slingshot chief executive Scott Page said standard practice would have been for the help desk to make sure someone was present before a medical alarm was disconnected.
He said the customer did not want to do this.
"In this instance, the testing of the broadband without the medical alarm connected would have only occurred if there was someone else in the house.
"The technical staff involved followed industry standard and best practice procedures for this type of fault and subsequently sought alternative solutions."
He said the customer had been unwilling to let Slingshot perform standard diagnostics, but said there was always room for improvement in the way staff dealt with customers.
The problem was eventually fixed when it was escalated to Telecom - but the customer says that was what he was trying to get Slingshot to do from the start.
Do you have a call centre story? david.fisher@hos.co.nz internet