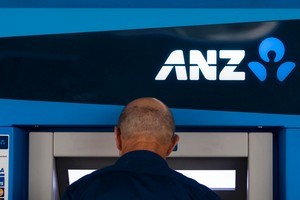 Australia and New Zealand Banking Group reported a 25 per cent rise in annual profit in New Zealand, beating the $1 billion barrier with the help of a 59 per cent fall in bad debts.
The largest bank in New Zealand reported a $1.085 billion profit in the year to September 30, up $867 million a year earlier. The annual provision for bad and doubtful debts fell to $187 million from $461 million.
The second-half profit of $607 million is up 27 per cent on the first half. The underlying annual profit of $1.24 billion is up 41 per cent on last year.
The operator of ANZ and National Bank brands didn't say anything about dropping the National Bank brand, which has been a source of speculation.
The massive increase in annual profit was achieved on a 4 per cent rise in net interest income. Operating income rose 7 per cent. The company said tight management of costs contributed to the result. Costs fell 2 per cent.
A breakdown of the annual result showed a 44 per cent rise in earnings from the retail division, a 61 per cent rise from the commercial division and a 5 per cent fall in earnings from the institutional division.
The provisions for bad debts in the second half rose 20 per cent from the first half to $102 million.
The Australian parent posted a 19 per cent increase in annual profit to A$5.36 billion.
The shares were unchanged at $27.25 on the NZX and have fallen 10 per cent this year.

- APNZ