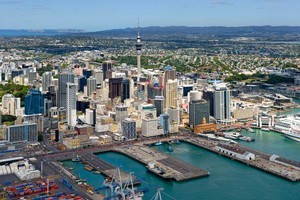 Asking prices for homes have hit a new high, particularly in Auckland, as sellers bet on the market staying strong.
Figures from realestate.co.nz show big jumps in what people were asking in 17 of 19 areas, and reveal that Aucklanders' average $568,778 asking price in October was up 6 per cent on three months ago.
Realestate.co.nz chief executive Alastair Helm said that was the highest mean price sought in Auckland, up from $527,979 in August and $558,604 in September.
The national average asking price is now $434,164, topping the previous record of $429,250 set in April.
Mr Helm said a lack of listings had caused price expectations to jump. Sellers had become more confident and listings usually surged in October.
Real Estate Institute chief executive Helen O'Sullivan said the market was held back by people not expressing enough confidence.
Yet one Auckland house went for almost double the asking price - 6 Bishop St, near One Tree Hill, was valued at around $1 million but in May sold for $1.73 million.
Barfoot & Thompson agent Joss Goodall said it was an example of what happened when a scarcity combined with low interest rates and rising economic confidence.
The company last month said sale prices for Auckland homes jumped $16,000 between September and October and reached the highest average for six months - $547,883.
Meanwhile realestate.co.nz said vendors in the Central Otago/Lakes region got 11 per cent less for their properties in October than three months before, and those in the central North Island got 3.5 per cent less.
Some balance in the market was seen in the lower than expected risein new listings, which are 11 per cent down on a seasonally adjusted basis.
Seven regions showed asking prices up 5 per cent or more compared to three months ago and eight regions had a 1 per cent to 5 per cent increase.
"The New Zealand property market is still clearly favouring sellers in most regions especially Auckland and also Canterbury," Mr Helm said.
SKY HIGH PRICES
Northland: $410,736 +8pc
Auckland: $568,778 +6pc
Waikato: $356,746 +5.6pc
Bay of Plenty: $430,384 +4.7pc
What $435,000-$450,000 buys
Auckland: 2-bedroom, 1-bathroom bungalow in Mt Albert - $435,000
Northland: 3-bedroom home on 971sq m section at Mangawhai Heads - $435,000
Te Anau: 2.28ha section, mountain, lake views - $449,000
Invercargill: 4-bedroom home on 873sq m section - $445,000
Source: realestate.co.nz