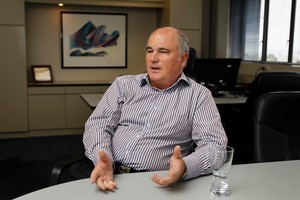 Kim Campbell, the Employers and Manufacturers Association's new chief executive, is a war history buff and a big fan of Napoleon Bonaparte.
And he reckons businesspeople can learn a lot about strategy through studying the various battlefield successes of the infamous 19th century French military leader and emperor.
"He was unbelievably energetic and he understood how to win against insurmountable odds - make sure you control your supply line, make sure you concentrate your firepower at your enemy's weakest point and then once you've breached the enemy's line, consolidate," says the 60-year-old.
The Auckland-based EMA has been fighting its own battles, of sorts, this year.
Alasdair Thompson, Campbell's predecessor, was let go in July amid a storm of controversy after his suggestion, on live radio, that women employees were less productive and more prone to absenteeism because of their monthly "sick problems".
Campbell described the debacle as "unfortunate".
"I have no idea what was going through [Thompson's] mind, I haven't had a conversation with him about it," he said.
Campbell, an old boy of Christ's College, Christchurch, who has been involved with the EMA throughout his career, including a stint as deputy chairman, said his own views on women in the workplace were far removed from those of the man he has replaced.
"What amazes me is that the conversation [on women's productivity] is even being had," he said. "I thought those conversations were over 20 years ago ... the arguments are over."
Campbell said he thought that - in many cases - women actually did their jobs better than male colleagues.
There was "shock and awe" within the EMA at the Thompson affair, he added. Air New Zealand and other firms withdrew their membership as a result of the former chief executive's comments.
Campbell said he did not think the Thompson affair had damaged the reputation of the 100-year-old business advisory, training and advocacy organisation that has more than 7000 members in its northern region.
"Most people are moving on and we're certainly moving on ... we think the basic underlying values of the organisation are sound and the services we offer are excellent," Campbell said. "That's what people really rate us on."
Campbell has a background in the sales and marketing side of manufacturing firms, and began his career with ICI Chemicals in Auckland - selling glue - after graduating with a geography degree from the University of Canterbury.
He was working for lawnmower maker Masport in the mid-1980s when the opening up of the New Zealand economy through the Rogernomics policies of David Lange's Labour Government caused massive upheaval for manufacturers, who had become accustomed to supplying a highly protected domestic market.
"It was extremely difficult," he said. "What people don't realise now is that vast areas of industry just disappeared."
Despite the difficulties facing the manufacturing sector today, such as a strong New Zealand dollar and depressed consumer confidence levels, Campbell said he was optimistic about its future.
"There's some amazing things going on here," he said. "Our vision [at the EMA] is to provide leadership so New Zealand is prosperous and our members are prosperous."
EMA president Graham Mountford said Campbell's appointment was a coup for both the organisation and this country's business community.
"The EMA board is very pleased that someone of Campbell's professional, business and international calibre has made himself available."
KIM CAMPBELL
Chief executive, Employers and Manufacturers Association.
* Aged 60.
* Married with two sons and one granddaughter.
* Began his career with ICI Chemicals in Auckland, before going on to work for Trigon Plastics, Masport and New Image. For the past 13 years he has held various roles within Hong Kong's Zuellig Group, most recently in Manila as executive chairman of Pharma Industries, a pharmaceuticals manufacturing group in the Philippines and Thailand.
* Hobbies include sailing, skiing and history.