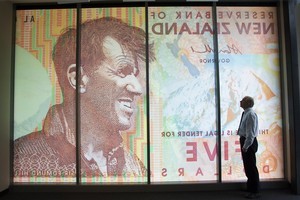 The New Zealand dollar may extend its decline this week as Europe grapples with its sovereign debt crisis, while China - often a source of positive economic news for New Zealand- enjoys its Golden Week holiday through until October 7.
Five economists and market strategists surveyed by BusinessDesk said the kiwi will trade in a wide range this week with liquidity reduced by the Chinese week of holidays and sellers awaiting any rallies.
The Quarterly Survey of Business Opinion presented by the New Zealand Institute of Economic Research tomorrow and a regular online auction of milk powder by Fonterra are the main items in the domestic economic dairy this week.
This week's interest rate decision by the Reserve Bank of Australia will also be a focus but the Australian central bank is expected to keep rates on hold until the global economic situation clarifies.
The kiwi, which was recently at 76.19 U.S cents, may trade in a range of 74.50 cents and 78 cents this week, according to the poll.
"The next major support is at 71.10 US cents, but I don't expect it to be testing that this week," said Stuart Ive, senior trader at HiFX.
The NZ dollar would be pushing the envelope on the downside this week, he said.
Analysts said the downgrade of New Zealand's credit rating last week by Fitch and S&P had been fully absorbed by financial markets. The move by the rating agencies on Friday knocked the kiwi to its lowest level since late March.
While exporters may put on cover at lower levels, analysts are struggling to identify a growth story for the New Zealand economy while the US and many European economies continually disappoint investors.
"The situation in Greece is no clearer," said Alex Sinton, senior dealer at ANZ. Greece's attempts to improve its fiscal situation fall short of bailout requirements.
Greece forecast a budget deficit of 8.5 per cent of gross domestic product at the weekend, missing its bailout target of 7.6 per cent.
To avoid bankruptcy, Greece needs the next 8 billion euro tranche from the bailout plan to avoid running out of money within weeks.
Mike Burrowes, currency strategist at BNZ, said the trading range for the kiwi dollar would be wide this week.
"That reflects the event risk from offshore over the week which could drive the kiwi either way," he said.
The trade weighted index is expected to trade in a range between 67 and 70 this week compared to 68.28 today.
Against the Australian dollar, the kiwi is expected to find support around 78 Australian cents and encounter resistance at 79.60 cents. It was at 78.87 cents today.
The Australian dollar itself is seen as being close to major support at 96.20 US cents and below that at 95.40 US cents.