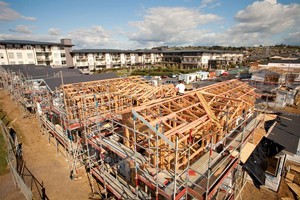 The number of new homes approved in August shows a strong increase for the second consecutive month, Statistics New Zealand said today.
"Excluding apartments, the seasonally adjusted increase of 17 per cent in August 2011 was boosted by earthquake-related homes," industry and labour statistics manager Louise Holmes-Oliver said.
"There were 57 new homes identified as quake-related, including 50 relocatable units for housing displaced residents."
Including apartments, the seasonally adjusted increase of 13 per cent in August 2011 was also boosted by the high number of apartments - 179 units. Of these, 102 were identified as assisted-living apartments at retirement village complexes.
Stats NZ said these latest increases in home approvals confirmed the upswing of the trend over the last five months, following some of the lowest levels seen since the series began.
Although the overall level of housing approvals was low, August was the first month for a year to see an increase in the actual number of homes approved compared with a year earlier - 1,509 new homes were approved in August 2011, up 23 per cent from August 2010.
In Canterbury, earthquake-related building consents totalled $20 million in August, following $32 million in July. The August consents comprised $12 million for non-residential work and $8 million for residential work, including the 57 new homes mentioned above.
Residential consent values totalled $483 million in August 2011, up 2.1 per cent compared with the same month last year, while non-residential totalled $277 million, down 6.2 per cent. Consent values for all buildings totalled $761 million, down 1.1 per cent.
-NZ HERALD ONLINE