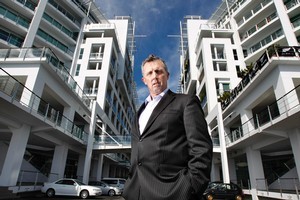 Offers are being considered for five-star hotel Hilton Auckland after a global campaign this year.
Dean Humphries, executive vice-president of Jones Lang LaSalle Hotels with an exclusive contract to sell the property, said 50 parties initially inquired about buying.
"We've developed a shortlist from that and now the due diligence phase of the process has begun," said Humphries, who also this month sold Wellington's InterContinental to Asia's Colwall Properties for about $50 million.
Hilton Auckland's restaurant was transformed ready for the Rugby World Cup and renamed Fish.
Extensive exposed timber features have been added as part of a $1.3 million budget to upgrade the hotel this year, including the restaurant refit.
Beds in guest rooms have been replaced and the IT system, guest lifts and back of house areas have also been upgraded.
Auckland's international cruise ship terminal is included in the sale. It will be operated by Ports of Auckland for about 68 days of the year in the 2011/12 season. Auckland Council wants the terminal shifted to Queens Wharf development by the 2012/13 season.
The hotel is subject to a 100-year ground lease. A term of 84 years remains. Ground rent has been paid until September 2095.
Humphries said Hilton Hotels would continue to run the property until 2021 as part of its operations in New Zealand, which also includes hotels at Taupo and Queenstown.
Hilton Auckland, at 141 Quay St, has a rateable value of $44.6 million.
ASB holds a mortgage over the property but David Henderson's top-floor apartment is not part of the sale. Henderson, who developed all six wharf sheds including the Hilton, is bankrupt and attempts to sell his mortgaged apartment, once said to be worth $10 million, have so far been unsuccessful.
To garner interest in Hilton Auckland's sale, Humphries has been to Singapore, Kuala Lumpur, Hong Kong and Sydney to meet prospective buyers and said his firm's London and New York offices were also involved in the marketing campaign.
"It's a great time to be selling a trophy asset like this because not that many New Zealand hotels sold after 2008. But in the last 12 months, the situation has changed and about 10 hotels have changed hands," he said.
Humphries said his InterContinental sale was the biggest commercial property transaction in New Zealand this year.
He had also been involved in selling Hyatt Regency Auckland for about $60 million - "the largest deal in New Zealand last year".
Hilton Auckland
* 165 rooms on Princes Wharf.
* Developed in 2001.
* Rateable value of $44.6m.
* 84 years running on wharf lease.
* Includes international cruise ship terminal.
* 50 parties inquired about buying.
* Sale expected before Christmas.