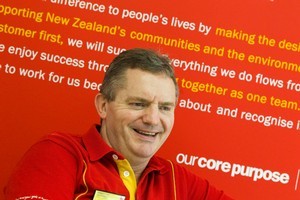 At 23, Mark Powell found himself deep underground, in charge of more than 80 men in a south Wales coalmine.
That was almost three decades ago but he still laughs at the memory of the "kid" commanding hardened miners.
"I'd hate to think what they thought of me," says 49-year-old Powell, who took over as chief executive of The Warehouse Group in May, replacing Ian Morrice.
"I suppose I learned a lot underground. [It's] a dangerous environment, highly unionised with people who are pretty direct."
So what did he learn that he can apply to running New Zealand's biggest listed retail group?
"People see through B.S.," Powell answers. "I've got a working class South Walian background. I think New Zealanders are good at seeing through B.S. and you've got to be authentic."
Powell left the National Coal Board, which he joined in his late teens, after the British mining industry entered a decline in the 1980s.
"I completely changed direction," he says.
"I got a job as a deputy store manager with a frozen food retailer, Iceland, and moved out of Wales for the first time."
Since then he has held a number of retail management roles around the world, including running Walmart Canada's logistics operations and a similar role with Tesco, the British supermarket giant.
A search for a better lifestyle and environment for his two daughters prompted his family's move to New Zealand in 2002.
Powell joined The Warehouse that year and has held various roles within the group, most recently as chief executive of Warehouse Stationery.
He has been credited with turning around the so-called "Blue Sheds", which had been a struggling part of the business. The company reported a 4.1 per cent rise in full-year sales for Warehouse Stationery yesterday, to $201.5 million, while revenue at the Red Sheds fell 0.9 per cent to $1.46 billion.
The Warehouse founder Sir Stephen Tindall, who still owns around 53 per cent of the company and commands a seat on its board, says Powell is an enthusiastic leader and a very different person to his predecessor, Morrice.
"I think he's a person who is much more open ... a person who brings people along with him to a bigger degree," Tindall says. "He's very much a team player and knows where he wants to go. I don't want to take anything away from Ian, either, I think Ian had a very different style and he did his very best."
It's fair to say Powell has his work cut out for him.
The company yesterday reported an 8.9 per cent fall in adjusted group net profit to $76 million for the 12 months ended July 31, while revenue dropped 0.3 per cent to $1.67 billion.
And the firm warned that adjusted net profit for the group could fall as low as $70 million in this financial year.
In 2007 - when the firm's share price was trading at well above $6.00, compared to the $3.38 it closed at last night - the group reported a full-year net profit of $115 million.
Announcing the result yesterday, the company's new chairman, Graham Evans, a director of The Warehouse Group since 1998, described how and why the company has lost its way.
He says the Red Sheds, as a result of under-investment, are "tired and unattractive" and the company has failed to meet customers' demands.
Evans says the company hasn't delivered what is expected of a "well operated discount department store" in cleanliness, availability of products and customer service.
Since 2004, when Morrice took over the chief executive role, the group's share of the total non-food retail sector has fallen from 10.2 per cent to 7.6 per cent.
The meteoric rise of online shopping, especially in the music market, has also hurt the business.
But the company's problems began well before Morrice took over.
Shareholders who invested in the company at its 1994 initial public offering saw a 410 per cent return on their investment by 2001.
But between the start of 2002 and late 2004, when the stockmarket grew by 50 per cent, The Warehouse lost 44 per cent of its value.
A disastrous attempt at breaking into Australian retail market contributed to the decline. In 2000 the company spent A$105 million acquiring 155 stores and six distribution centres across the Ditch.
Between 2000 and 2004 the Australian part of the business accumulated losses of $50 million and the plug was pulled on the ill-fated project in 2005.
Powell yesterday announced his wide-ranging strategy aimed at returning The Warehouse to its former glory, involving a capital spend of $430 million over the next five years, which will include improving the external and internal appearance of its stores, property development and new sites.
"It's good that someone is taking the bull by the horns," says Guy Hallwright, a Forsyth Barr analyst.
Powell says the company is going to drive hard on bargains and essentials. He says the company has identified product categories where it has opportunities to grow, including jewellery and health products.
Changes already made at Warehouse Stationery - such as refreshing stores and transforming its online business - offered "a blueprint" of the changes that would take place at the Red Sheds.
"Success ain't guaranteed - but you either sit there and do nothing, and get run over like a possum in the headlights, or you focus on doing the rights things and trust the customers will come."
Mark Powell
* Chief executive of The Warehouse Group.
* Aged 49.
* Born near Bridgend, in south Wales.
* Married with two daughters, aged 19 and 18.
* Has worked for The Warehouse Group in a number of roles since 2002, most recently as chief executive of Warehouse Stationery.
* Started his working life with Britain's National Coal Board before moving into retailing in the UK, Spain and Canada.
* Has degrees in mining engineering from the University of Wales and theology from Auckland's Carey Baptist College.
* Interests include rugby (he says he supports Wales and the All Blacks), family and keeping fit.