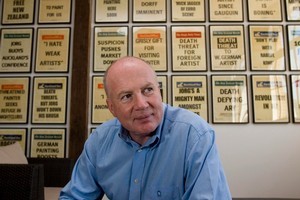 Saatchi & Saatchi global chief executive Kevin Roberts is expected to take a place on the new-look Telecom board, despite his ringing endorsement of the disastrous "Abstain for the Game" ad campaign.
Roberts was reported as saying the widely pilloried ads, featuring Sean Fitzgerald riding in a fist-shaped dodgem car, were tongue-in-cheek, fun, and a light-hearted way to get rugby people and all New Zealanders talking about the Rugby World Cup.
After the idea was leaked to media and scrapped by an embarrassed Telecom, the Saatchi chief was reported as asking: "Have we really lost our sense of humour?"
Alongside board member Murray Horn, Roberts is up for re-election at next month's board meeting.
The vote is distinct from the shareholders voting for the demerger of the company.
A Telecom source said some in management were unhappy that the Saatchi boss had waded into the row over the "Abstain for the Game" ads, which cost hundreds of thousands of dollars to make.
But Roberts is viewed as an asset by United States shareholders and soon-to-depart board chairman Wayne Boyd.
His role on the Telecom board has raised eyebrows in the advertising industry, with suggestions that having the Saatchi chief on the board limits the potential for the advertising business to be made available to other agencies.
Telecom is one of the country's biggest advertising accounts and is a cornerstone of Saatchi & Saatchi's business in New Zealand.