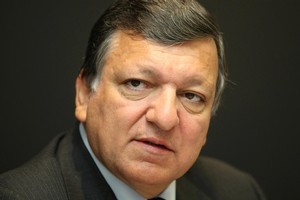 The process of European integration is an irreversible one and the current debt crisis will only propel it further, European Commission president Jose Manuel Barroso says.
Addressing a New Zealand-Europe Business Council lunch in Auckland yesterday, he said there was an absolute determination to do whatever is necessary to ensure the stability of the financial system.
"We have difficulties in some member states. There should be no complacency," he said.
"But the euro remains a stable and credible currency, because we have a very credible monetary policy, an independent central bank and a good balance of payments position."
Government debt across the euro area as a whole is lower than that of the United States or Japan, relative to GDP.
Those who thought the euro would disintegrate misunderstood the dynamics of the European Union, he said.
"Every time Europe has faced a crisis, we have moved towards deeper integration. The debate in Europe is a strong one but it is about how far to integrate, rather than whether to undo integration.
"The markets are putting a price on the lack of integration in the euro area," Barroso said. "But we are democracies. The public has to support these measures, so it it takes time."
Many of Europe's political leaders had challenges from populist and nationalistic forces to contend with.
"It is not easy to be a head of government," Barroso, a former Portuguese Prime Minister, said.
Since World War II the European project had always been one of enlarging and deepening.
The initial driver - a determination to cement the peace - has been succeeded by another, globalisation, he said.
Even the biggest European countries knew they needed to pool resources if they were to deal on equal terms with global powers like the United States and China.