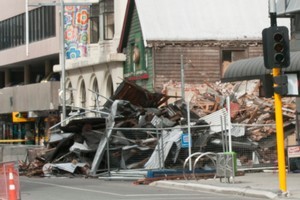 Christchurch firms that began claiming business interruption insurance after the city's first earthquake on September 4 last year may be running out of cover, says the boss of one of New Zealand's biggest insurers.
Karl Armstrong, executive general manager of NZI, said some companies paid for indemnity periods much longer than 12 months, but having a year of interruption cover was common.
Yesterday marked the one-year anniversary of the first Christchurch quake.
"It's fair to say that those with business interruption cover from the 4th of September are effectively coming to the end of their indemnity period," Armstrong said.
Asked about the impact on businesses of running out of cover, he said: "If they haven't sorted out what their future is going to be then I imagine they will be stretched."
Paul Lonsdale, manager of Christchurch's Central City Business Association, said most businesses began receiving interruption insurance after the February 22 quake, which devastated the CBD and left 181 dead.
The central city red zone remains cordoned-off.
If businesses still required cover after the one-year anniversary of that disaster, they would face problems, Lonsdale said.
He said there were other issues around business interruption insurance, including insurers using "depopulation" as a reason to, in some cases, only contribute 10 per cent of the policy pay-out.
Depopulation occurred when a building was undamaged, but was surrounded by damaged buildings and access was restricted, he said.