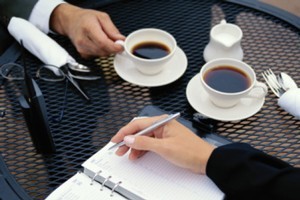 It's 6.30am on a brisk weekday morning in Auckland's metropolis. At No1 Queen St cafe, eager "suits" are waiting for their first fix of the day. Barrelling out soy lattes, plus increasingly trendy long blacks and ristrettos, head barista Uilisi Langi describes how staff would be rostered on from 6.30am for a 7am opening.
"We had so many people waiting for a coffee. So we open at 6.30am now and we've still got people waiting when we open ... We get through about 55kg of coffee a week, and if you consider that to be a mix of double and single shots we'd serve up to 3500 coffees a week."
This is just one of countless cafes cashing in on the "think drink".
In his book Buzz: The Science and Lore of Alcohol and Caffeine, Stephen Braun discusses the introduction of coffee to Europe in the 17th century. It was "regarded as an Arabic curiosity at best, a repulsive excuse for a beverage at worst". But within a decade thousands of coffee houses decorated port cities such as London, Amsterdam and Venice.
James Howell is noted for his charming 1660 account: "This coffee drink hath caused a greater sobriety among the Nations. Whereas formerly apprentices and clerks use to take their morning draught of ale, beer or wine, by which the dizziness they cause in the brain make many unfit for business, they now play the good-fellows in this wakeful and civil drink."
A rather lumpy-looking molecule, caffeine doesn't arouse the brain directly. Rather it masquerades as a similarly shaped molecule, adenosine, a by-product of cellular activity. Adenosine latches on to neuron receptors to quieten brain activity when enough of it has built up. Closely involved in sleep behaviour it is, in effect, a thermostat. When its levels drop sufficiently, neural activity fires up again.
Caffeine works so well because its smaller molecular formation nuzzles into neural receptors but does not set off the calm-inducing chemical reaction that adenosine does. It merely stands in the way.
Caffeine also increases the production of adrenalin by affecting the pituitary glands. This "fight or flight" hormone adds a burst of energy to the body in concert with neural excitement. It also increases the production of dopamine - a substance associated with pleasure and addiction.
But at higher rates caffeine becomes a depressant. It is biphasic - has different effects at different doses. On the bright side there appears to be a low risk of death by coffee. A standard shot offers about 100mg of caffeine. It is expected to cause insomnia when 250-750mg is consumed and to be harmful at 750mg to 1g. More than 3g could prove fatal, though vomiting would occur long before this level.
Figures such as Johann Sebastian Bach and French writer Honore de Balzac all espoused the mental virtues of coffee. The latter was said to retire to bed at 6pm and rise at midnight, writing for 12-hour stretches while he sipped the stuff: "Coffee falls into your stomach and straight away there is a general commotion. Ideas begin to move like battalions."
But does the improved mental speed translate to better results at work? Tasks like auditory reactions and simple arithmetic are undoubtedly improved, says Braun. But when detailed reasoning and comprehension are required, studies show caffeine induced-results are the same or worse.
Indeed, impulsivity is associated with a preference for speed and lack of concern for accuracy, leading to the theory that caffeine should be taken to enhance the period when a person is naturally subdued.