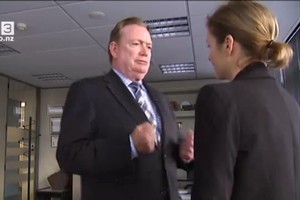 Former business boss Alasdair Thompson's controversial comments on gender pay equity sparked the resignation of 16 Employers and Manufacturers Association members - including eight who agreed with him.
The EMA board dismissed Mr Thompson on July 6, citing his conduct in June 23 interviews where he suggested women's "monthly sick problems" made them less productive.
His comments sparked an angry outcry across the country, as unions called for him to be fired and large employers pulled out of the organisation.
Today acting EMA chairman Bruce Goldsworthy today told Radio New Zealand eight businesses had pulled out of the association in protest at Mr Thompson's statements.
When the EMA board dismissed Mr Thompson on July 6, a further eight members withdrew, Mr Goldsworthy said.
EMA spokesman Gilbert Peterson today said the last eight businesses to withdraw from the association thought its decision to dismiss Mr Thompson was unjustified.
"They didn't want to support an organisation that dismisses its CEO for making comments they consider reasonable."
He would not give a list of the businesses that had quit the association.
Mr Goldsworthy also told Radio New Zealand the board would likely have come to an agreement with Mr Thompson over compensation for his dismissal.
"I would imagine there would be some kind of payment."
Mr Goldsworthy acknowledged Mr Thompson's "brain explosion" had done damage to the EMA's reputation.
The EMA would work to rebuild its reputation with the 7500 businesses it still represents, Mr Goldsworthy said.
"The comments that were made did not reflect the values of the organisation. Dismissal eventuated... That reflects the values of the organisation.
"The... EMA is much bigger than any one issue or any one person."
Mr Goldsworthy said he could not guarantee discriminatory attitudes did not still exist in some businesses represented by the EMA.
"We have good employers and bad employers.
"We have employers that may choose to employ only people from the Pacific Islands for whatever reason."
Despite that, he reinforced the EMA's opposition to legislation on gender pay equity.
He said the best way to narrow the pay gap between men and women was to foster a culture of equality in workplaces and to encourage women to apply for high paying roles.