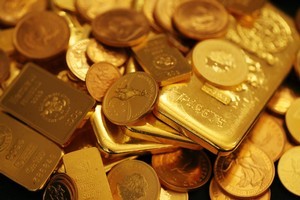 Washington debt crisis could overshadow Key visit - News Report.
Don't tell anybody this but it's all a game. It has to be. It can't be real because money isn't. Well, it's real in the sense that we have it. But it's not real in the sense that weather or an albino kiwi or chilblains are real. Money isn't something that exists in its own right. It's just paper we trust, that's all. The only thing about money that matters is that we think it matters. We believe in it. Beyond that, it isn't real.
There was a time when money was a thing of substance. It had a value, an actual value, not one we gave it. Back then, you could drive a horse and cart-full of money into your local bank - assuming the horse was continent - and exchange your notes for an agreed number of gold bars, which you would then take to the hostelry where the publican would shave a few flakes off and give you a firkin of ale.
This was called the Gold Standard and the theory behind it was sublimely simple. If country A had X amount of gold, it could print Y amount of money. If it didn't, it couldn't. And it worked jolly well for centuries. Civilisation blossomed. Trade flourished. Industries boomed. People invented useful things like golf, traction engines and the great opium-based medication, laudanum, which was used by all and sundry to ease the pain of migraines, toothache and death.
Our own Governor Grey was a devoted user. Indeed, it's widely believed that many of his best decisions - like starting the land wars - were made immediately after he'd knocked back a healthy slug of laudanum.
In summary, the Gold Standard was to recessions what a good laxative is to constipation. It kept the economy moving in a stately and decorous manner. Nobody hacked phones or shoved shaving cream pies in the face of Ocker octogenarians. Things were seemly. Admittedly, most countries had more people than they did bank notes but that merely encouraged sensible behaviour, like borrowing improving books from the library or emigration.
So everything was hunky dory until that libidinous bounder John Maynard Keynes put the cat among the pigeons and upset the apple cart by declaring, "You don't need a Gold Standard. Get rid of it. Money is its own value. The more you have, the more you can spend. The economy can't grow behind bars. Ditch 'em. Ban the bullion and let them presses roll, 10 4."
Which people did. From the Weimar to Washington, everyone went on a printing spree. Then they went on a spending spree. Which meant they went on a buying spree too. And there was printing and spending and buying and cheering and everyone was happy and no one cared a toss because they'd got rid of that silly old, stuffy old, boring old Gold Standard and money wasn't real any more but, who cares, we believe in it anyway and that's all that counts.
Suddenly, the market was a construction, a sport. Freed from its ties to an actual substance, It became a whimsy, an artifice, an elegant abstraction, a fascinating fiction with its own complex and arcane set of rules that we all took very seriously but which bore no relation whatsoever to anything tangible.
No one cared. We believed in money. That's all that mattered. So we kept churning the stuff out and before you could say, "Alan Greenspan" the Yanks were 57 trillion in the hole and heading for the gurgler and that meant China was going down it as well so everybody started having crisis talks and promoting their own solutions - "Cut spending! Raise taxes!" - and any journalist not hacking phones filed grim reports and we all thought we should be worried but we shouldn't.
We believe in money, remember. We have to. There's no alternative. Until we invent one. So keep believing. It's our only hope. Well, that and the fact that they'll end up doing some deal in Washington which will supposedly cut 3.7 trillion or 4.2 trillion or (pick a figure) off the deficit over the next 10 years and that will placate the markets and share prices will recover and everything will be fine.
The sun will come up. Rain will fall. Plants will grow. Albino kiwis will breed. All will be well. In fact, the only casualty will be Kiwi Key. All the presidents and people he's due to visit will be seriously distracted.
"Why, howdy, Jim."
"It's John."
"Whatever. Say, you ain't got $57 trillion you could lend ol' Uncle Sam, do ya?"
"Not on me, no. Can we talk about Free Trade?"
"Sure. Jest as soon as I got me a deficit deal. What are we doing here, Jeff?
"Well, my diary says lunch."
"Only if it's your treat, buddy. We gotta crisis here, Jack."
"Umm, maybe I'll come back next week."
When, rest assured, believers, it will still all be a game.