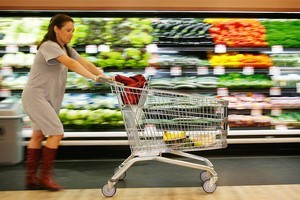 New Zealand inflation accelerated more than expected in the second quarter, on prices of fuel, food and power, increasing the prospects that the central bank will raise interest rates later this year to cool a resurgent economy.
The consumer price index rose 1 per cent in the three months ended June 30, pushing the annual rate to a 21-year high 5.3 per cent, according to Statistics New Zealand. That outpaced the 0.8 per cent quarterly and 5.1 per cent annual rate forecast by economists in a Reuters survey and is faster than the Reserve Bank had been expecting.
The CPI figures come after gross domestic product grew 0.8 per cent in the first quarter, twice the forecast pace, sending the New Zealand dollar to a new post-float high.
While annual inflation was expected to peak out in the latest quarter at around 5 per cent, given the impact of one-off adjustments such as the hike in goods and services tax, today's figures suggest price pressure is becoming more widespread.
ASB economist Christina Leung said the result reinforced its expectations the Reserve Bank will begin hiking the the OCR in December.
BNZ head of research Stephen Toplis said the data was consistent with a view that core inflationary pressure was rising. A "very high" headline inflation number tended to feed through to inflation expectations.
UBS senior economist Robin Clements said a quick analysis suggested maybe as much as half the rise could be regarded as one-offs, not core inflation.
"So it's not quite as bad as the headline appears."
"The underlying picture is that the recessionary lull in inflation pressures is now well past," said Dominick Stephens, chief economist at Westpac Banking, before the numbers were released.
"We are concerned that these kinds of outcomes will steadily erode the RBNZ's wiggle room on inflation."
Stephens predicts annual inflation will stay above 3 per cent through this year, even after the impact of the GST hike drops out, which is stronger than the RBNZ's 2.5 per cent forecast.
The trimmed mean measures for quarterly inflation ranged from 0.8 per cent to 0.9 per cent, suggesting underlying inflation is accelerating. Some 70 per cent of the latest increase came from petrol, food, air travel and electricity.
The central bank is expected to raise the official cash rate by at least 50 basis points in the next 12 months, according to the Overnight Index Swap curve.
By contrast the heat in Australia's economy, the biggest market for New Zealand goods, is coming out, and Westpac said on Friday there is a prospect that the Reserve Bank of Australia will actually cut its key rate this year.
That would narrow the gap with the RBNZ's OCR at 2.5 per cent currently and may help lift the kiwi dollar against the Australian dollar.
In the latest quarter, transport costs rose 2.7 per cent, making the biggest single contribution to CPI, with petrol prices rising 4 per cent, international air fares gaining 6.8 per cent and domestic fares up 8 per cent.
Food prices rose 1.1 per cent, paced by a 1.5 per cent gain for groceries and a 6.7 per cent increase for vegetables. Prices of tomatoes soared 64 per cent, largely reflecting supply disruptions from the Queensland floods, and lettuces gained 30 per cent.
Housing and household utilities gained 0.9 per cent, led by a 2.7 per cent gain in electricity, new housing costs rising 0.9 per cent and rental housing gaining 0.5 per cent.
Prices of new housing were influenced by increases in Christchurch and the rest of the South Island, the government statistician said.
Alcoholic beverages and tobacco declined 0.6 per cent and communications declined 1.2 per cent.
In the year, increases were driven by an 11 per cent rise in transport costs, given a 20 per cent gain in petrol, while food rose 7 per cent and housing and utilities rising 4.4 per cent.
The annual CPI increase was the largest since a 7.3 per cent annual gain in the second quarter of 1990, which also reflected a hike to GST to 12.5 per cent from 10 per cent. GST is now 15 per cent.
- BusinessDesk / NZPA