Big deals in the past six months are generating confidence, say brokers.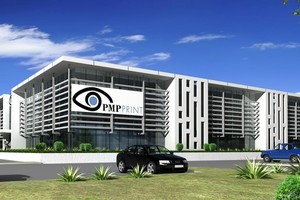 Jones Lang LaSalle is predicting that increasing levels of demand and low construction levels through 2010 in the industrial sector will lead to rental growth, higher levels of confidence and more investment activity during the remainder of this year and especially for "trophy assets".
"The big deals concluded in the last six months are generating confidence which is building as we progress through 2011," says Sam Smith, industrial manager for Jones Lang LaSalle New Zealand.
"At the end of 2010 we saw one of New Zealand's largest industrial warehouse and office leases concluded in the year by Jones Lang LaSalle on behalf of Goodman Property Trust (GMT). The custom-redeveloped prime industrial warehouse and office space will provide 23,000 sq m of space and is the first of many," says Smith.
Scott Bishop, industrial broker at Jones Lang LaSalle who helped to arrange the deal, said the development was the trust's largest single industrial warehouse and office lease in 2010.
When the redevelopment is completed, PMP Print (NZ) Limited will move into their new premises at Enterprise Park in Wiri later this year.
"The active management and existing relationship GMT forged with Gordon and Gotch, which is PMP's oldest brand in the PMP Group of companies, aided the process," says Bishop.
Jones Lang LaSalle also recently brokered a 5340 sq m leasing transaction for a design and construct industrial and office building at Highbrook Business Park in East Tamaki for Scalzo Food Industries which is consolidating its operations from two Penrose locations. The facility is being developed by Highbrook Development Ltd (HDL), a joint venture entity which owns the estate. GMT has a 50 per cent interest in HDL.
Scalzo Food Industries is an Australian family owned company with an ingredient portfolio that includes nuts, vegetables, fruit, seeds, grains, snacks, starches and dehydrated meats.
The company's manufacturing facilities add value and customise the ingredients by roasting, blending and packing, making them suitable for further processing or as retail-ready products. Scalzo also has its own retail brands, Freshlife and Nutters.
The new premises on the corner of Business Parade North and Waiouru Road, are expected to be completed in early 2012 and will be opposite two other Jones Lang LaSalle-brokered deals completed for Viridian Glass and Corporate Express.
"In discussion with our operatives in the Australian market, the activity in pre-lease and design and construct for large trophy assets picked up at the beginning of 2010 in Australia and was evident for around 12 months before cooling off. Now it's New Zealand's turn to experience the rise," Smith says.
The New Zealand property sector typically lags the Australian market by around 12 to 18 months, he says.
Michael Fenton, Head of Industrial at Jones Lang LaSalle Australia says industrial rents stabilised in Australia in 2010 after big retailers and logistics groups committed to new space. Of the 255,600 sq m of gross take-up recorded in the first quarter of this year in Australia, 49 per cent was leasing of vacant existing space.
"There was a clear improvement in occupier demand in 2010 in Australia, led by big retailers and logistics group looking through the cycle and committing to their future expansion programmes," Fenton says. "We expect medium a businesses to follow as the business cycle continues improving."
Another trend emerging here that points towards a pick up through 2011 is positive results in the industrial sector's lead indicators.
"The run down of inventory levels has primarily ended and steady container volumes through the Auckland Port were experienced over the first quarter of 2011," Smith says. "With imports likely to continue on the back of a historically strong kiwi dollar, take-up of space in the sector is expected to gather momentum."
JLL's research shows prime industrial rents in New Zealand entered the growth phase of the cycle in late 2010 and further evidence came in the first quarter of 2011 with average prime grade rents increasing by 0.5 per cent. JLL forecasts they will increase to moderate growth levels over 2012 and 2013.
Fenton says landords in Australia worked hard on tenant retention strategies and will now benefit due to very low vacancy in good quality warehouse and distribution properties.
As a result of improving rental conditions here and in Australia, yields will firm for prime grade assets with good lease covenants in anticipation of more rental uplift to come, forecasts the latest report from Jones Lang LaSalle Research.
It says prime grade yields have already firmed in Australia by 25-50 basis points across the prime sector since their peak in mid-2009, with variances between local precincts.
In New Zealand, prime industrial yields have been stable since mid-2009 and are expected to firm over the next 12 months.
"Logically the markets that are recording greater rental growth have generally shown the largest firming in yields," says Smith.
"Owners of industrial assets are certainly more confident in offering assets for sale now than the previous 12 months. Yield compression is reinforced by the number of new entrants and established groups re-entering the market in 2011 as active buyers. The confidence these buyers are exhibiting is based purely on solid market fundamentals that will grow over the next few years."