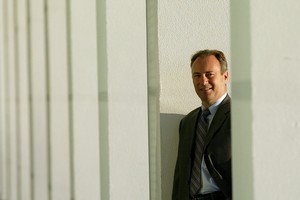 The European Union's free-trade agreement with South Korea is damaging for the European car industry, says Ford of Europe CEO Stephen Odell.
He told a Society of Motor Manufacturers and Traders conference in London that eliminating automotive import tariffs into the EU would seriously undermine automotive manufacturing in Europe.
"The EU-South Korea free-trade agreement gives improved market access for Korean manufacturers in Europe, while export opportunities for European-based manufacturers are likely to remain strictly limited in South Korea," Odell said.
"In fact, we're already hearing some disconcerting rumours from Korea concerning the strengthening rather than the weakening of non-tariff trade barriers."
South Korean lawmakers passed the free-trade agreement with the EU in May, clearing the last hurdle for the world's second-biggest trade deal to come into effect in July. The 1994 North American Free Trade Agreement between the US, Canada and Mexico is the biggest.
Carmakers such as Ford, Fiat and PSA/Peugeot-Citroen fear the agreement could flood Europe with cheap Korean-built cars.
Cars are South Korea's most important export product with 2 million of the country's annual 3 million production exported, according to ACEA, the European carmakers' association.
South Korean-built cars account for more than 95 per cent of the Korean market.
"South Korea has the lowest level of import penetration of any developed country," says the ACEA.
Odell said that European carmakers needed improved efficiencies and more competitive business practices to ensure that the industry could compete on a global level and "play to its strengths".
"Overcapacity was a major problem before 2008 and has only been exacerbated since the onset of recession," he said.
"In the United States, the industry has undergone a brutal reckoning in recent years and has come through leaner, more efficient and stronger. In Europe, nations went their own way."
He added that Europe could play a strong role in future global car manufacturing if there was an effective EU policy framework to support the car industry.
"Sadly, we are seeing an increasingly industry-sceptical political environment at the European level, with rising costs of what is often marginal and unnecessary regulation, unbalanced trade agreements, and anti-car European Commission strategy papers on the future of transportation," Odell said.
He said that carmaking was one of the world's great growth industries. "By 2020, it's estimated the annual global vehicle market will be around 90 million vehicles.
"That's 90 million vehicles that have to be designed, engineered and built somewhere in the world. Why not here in Britain and Europe as a whole?"
The EU automotive industry accounts for 10 per cent of all manufacturing by output and 35 per cent by employment. It provides direct employment for 2.3 million people and another 10.4 million indirect jobs.
"We need an effective EU-wide industrial policy: not just for the auto industry, but for manufacturing industry as a whole." Odell said.
Ford planned to invest US$3 billion ($3.60 billion) in Britain over the next five years, Odell said.
More than half of the funds would come from Ford itself, with EU grants and a US$680 million guarantee from the British Government making up the balance.
- Bloomberg