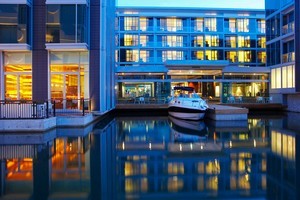 An Australian man claims he's been conned by a top New Zealand hotel over its refusal to tell him whether they will be able to honour a booking made for the Rugby World Cup.
Kelvin Boyd said he paid more than $6000 to secure two rooms at the plush Westin Hotel on Auckland's waterfront on June 24 last year, just days short of the hotel's management company, Lighter Quay Management, being placed in receivership.
Now he says he's being stonewalled by hotel management who, despite his repeated attempts, are refusing to tell him whether the rooms booked for the first week of the tournament, will be available for himself and his family.
More than two-thirds of the hotel was made off-limits to guests late last year, after angry out-of-pocket investors failed to settle a dispute over unpaid returns with the receivers for Lighter Quay Management.
Boyd, who runs an accountancy pratice in Melbourne, says he's unsure if he'll have a place to stay during the Rugby World Cup, and fears others who have booked at the Westin during the cup could be in the same predicament.
"I've probably spoken to the Westin seven or eight times. I spoke to them again two weeks ago. They promised to ring me three weeks ago, they didn't. They've promised to ring me again on the 28th of June. I don't know what's going to change".
"I've been conned."
Boyd paid for the accommodation up front because he said The Westin told him they were booked out for the opening weekend of the world cup, and he feared missing out.
The Westin has so far refused to comment on Boyd's claims, instead referring nzherald.co.nz to a press release issued last September by the hotel's former general manager, following room closures there.
"Our response has not changed (since then)," Westin's current hotel manager, Assumpta McDonald said.
That release states that care for both associates and guests is of 'key importance' and that the hotel continues to 'welcome guests' to guest rooms, the spa, café and conference facilities.
"With a smaller number of available rooms our staffing levels will be reduced upon instruction from the receivers, please be assured our number one priority is to assist and support those associates in the best possible way at this difficult time."
Boyd estimates he's stayed at the Westin 15 or 20 times when in New Zealand on business, and feels angry that the hotel "can't give a good customer a decent answer".
"It's just unacceptable in this day and age and it's unacceptable for a hotel chain like the Westin to play these games with people."
"Get your act together, understand who your customers are. Understand that you are doing yourself and the chain and the brand immeasurable damage and frigging well answer the bloody question.
"Can you or can you not guarantee the rooms and if you cannot, tell me," he said.