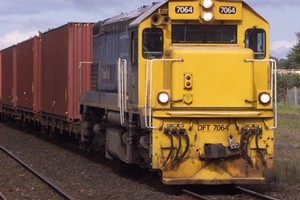 KiwiRail will axe 40 jobs at its Hillside workshops in Dunedin as it makes changes that will see it switch from building rail units to maintaining its foreign-built locomotives and wagons.
The railworkers' union has blamed the job losses on the Government and KiwiRail buying Chinese-built locomotives, rather than having them built here.
State-owned KiwiRail's proposal, announced this afternoon, is to make about 40 staff redundant out of the total workforce of 172 at Hillside, as new rolling stock arrives over the next 10 years to replace ageing locomotives and wagons.
Chief executive Jim Quinn said the current business was structured to "retain and refurbish" the aged rolling stock fleet, but now had be more focused on preventive maintenance and repair closer to where the rolling stock was being used.
He said it was a commercial decision to buy foreign-built locomotives, wagons and containers, which were critical to improving the business.
Hillside kept rolling stock in working order but was not able to build new units cheaply and fast enough to meet current demand, he said.
Mr Quinn said the Hillside workforce had always fluctuated according to the amount of work available and in recent years had increased to build carriages for both Auckland and Wellington metro services.
"Unfortunately this work has now been completed and their workload for the remainder of this year is greatly reduced."
Up to 70 positions could be affected in the "right sizing" process, he said.
It was a difficult decision and workers would be consulted today about the staff reduction proposal, Mr Quinn said.
"We know this is difficult for our staff and we will be ensuring they have full access to the consultation process and any support services they require."
Rail and Maritime Transport Union general secretary Wayne Butson said the redundancies were the direct consequence of KiwiRail not bidding for the $500 million rail construction job for the electrification of the Auckland rail network.
Inaction from Transport Minister Steven Joyce and KiwiRail had led to this situation, he said.
"The transport minister needs to front up and take responsibility for these proposed job losses."
"KiwiRail sending the job for 300 new container flat top wagons to an overseas firm last December hasn't helped matters either."
Mr Butson said a comprehensive Berl economic case had backed the argument behind Hillside being given the work that went to China. Hillside was supported by the Otago Chamber of Commerce, Dunedin City Council, unions and MPs.
The Government, as KiwiRail's shareholder, could have enforced strong local procurement rules, he said.
"Instead, the Transport Minister has sat by and let this work go overseas. "What needs to change is KiwiRail's tendering rules, and this change needs to come from Parliament, to make it clear for crown entities like KiwiRail that buying local must always be the first option where possible."
- NZPA