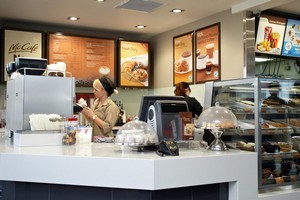 McDonald's is to apologise for the quality of their coffees served in Australia, and better blends and barista training are to be brought in to see the standard improve on this side of the ditch as well.
The company has conceded its coffee is not up to scratch for its Kiwi and Aussie customers.
"We are the largest coffee chain in Australia, but we know we are not the most loved," McDonald's Australia chief operating officer, Helen Nash, told The Australian.
On Sunday, McDonald's is to launch an Australia-wide advertising campaign across television, radio, newspapers and social media apologising for the quality of their coffee.
"Customers have told us we can do better and we are saying, 'we have heard you and now we hope you notice the difference'," Ms Nash said.
"Australians have a very sophisticated coffee palate and we were not delivering a strong enough cup of coffee."
In New Zealand, the company said it will "evolve" its coffee blends in its 102 McCafes and train staff to better cater for cosmopolitan Kiwis.
"As part of this we have introduced a new McCafe darker, richer roast nationwide," a spokesman said yesterday.
"We are upskilling our McCafe baristas across the country on the new blend to ensure we continue to offer the very best service to our McCafe customers on every visit."
The move is similar to one taken by pizza chain Domino's, who last year admitted their recipe was not up to scratch and relaunched its pizzas with new ingredients.
Coffee chains that have succeeded in the United States and Britain have not always fared so well down-under in the past. In 2008 Starbucks closed 61 of its 84 stores in Australia, claiming it misjudged Aussies' "very sophisticated coffee culture".

- Herald Online