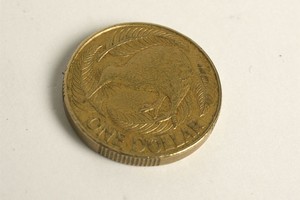 This week's rise in the New Zealand dollar to a three-year high was no accident of foreign-exchange markets or a natural result of overseas forces.
The NZ dollar jumped to over US81c on Friday morning, after interest.co.nz and the NZ Herald reported that China's Sovereign Wealth Fund may have allocated $6 billion of its US$330 billion ($407 billion) fund to buy NZ government bonds and other assets.
It's not just US dollar weakness either. The NZ dollar also hit a high on a Trade Weighted Index basis of over 70 as it firmed against the Australian dollar.
Foreign-exchange traders rightly understood what this meant. At some stage in coming months the world's biggest holder of foreign currency reserves (about US$3 trillion in total) will want to buy NZ dollars to lend them to our government.
This isn't particularly new because China has already been a big buyer of New Zealand government bonds and assets over the last year.
That was acknowledged this week by Prime Minister John Key and confirmed by Finance Minister Bill English through his presence in Hong Kong, where he met with key investors and bankers.
But this realisation that New Zealand's borrowing and asset selling is starting to drive up our currency is now sinking in, both with traders and exporters.
Reinsurance payments of close to $15 billion over the coming year or two will also push the NZ dollar higher. This poses some big questions for the Government.
How is New Zealand supposed to rebalance its economy away from consumption, importing, borrowing and asset selling towards investment, production, exporting and asset buying when our currency is headed for record highs? Key has even acknowledged that a stronger NZ dollar is good for consumers. It means cheaper imports, electronics, overseas holidays and petrol.
This is actually a political choice. A strong NZ dollar is good for voters a few months out from an election.
It is bad for exporters and producers in the long term.
It is classic short-term political thinking at the expense of long-term economy building.
The Government is essentially deciding that borrowing money and selling assets is an easier decision than increasing prices for stressed consumers.
Is this really what New Zealanders want?
Every time we borrow more and sell assets we give up a little bit of sovereignty to the lender and the foreign asset owner.
Are New Zealanders comfortable doing that for the sake of cheap petrol?
That is what this week's rise in the currency boils down to.
The biggest pressure point in this debate will occur in the coming months as the Government decides whether Chinese property mogul Jiang Zhaobai should be allowed to buy Crafar Farms.
There is also the prospect that 83 per cent of New Zealand's biggest dairy farming group, Dairy Holdings, will be sold to foreign interests, including the potential for China's Bright Dairy, which already owns Canterbury milk-processing operation Synlait.
This sale is being handled by the receivers for South Canterbury Finance, and therefore the Government is the driving force in the sale.
Sounds like an election issue to me.
bernard.hickey@interest.co.nz