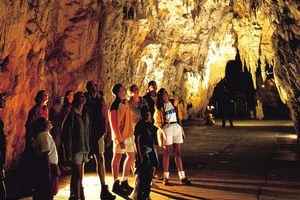 Tourism Holdings, owner of Waitomo Glowworm Caves, is the target of a takeover offer from Ballylinch.
A committee of independent directors at takeover target Tourism Holdings is advising shareholders not to accept an offer from Ballylinch LP.
New Zealand-registered Ballylinch this month launched a partial takeover offer at 67.5c a share for 40.85 per cent of the shares it does not already own, conditional on getting more than half the voting rights.
Last month Ballylinch bought shares in an off-market transaction from four parties associated with Sterling Grace Private Equity, whose chairman is John Grace.
According to a Bloomberg company overview, John Grace - a New Zealand citizen resident in Switzerland and director of Ballylinch LP's general partner Ballylinch General - is the founder and chairman of the New York-based investment firm Sterling Grace Corporation.
In a letter to shareholders, Tourism Holdings chairman Keith Smith said the offer price was materially below a fair value range determined by independent adviser Simmons Corporate Finance.
A report by Simmons assessed the fair market value in a range of 97c to $1.27 a share.
If the offer were successful, it would take Ballylinch's share ownership to between 50.01 and 52.2 per cent.
"The offer price is significantly below our valuation assessmentand we have not identified any significant gains to the company orits shareholders of Ballylinch holding more than 50 per cent of thevoting rights," the report said.
Tourism Holdings' assets include car and motorhome rentals in Australia, New Zealand and the United States, Waitomo Glowworm Caves, motorhome manufacturing in Hamilton and Kiwi Experience backpacker transport.
Smith said the offer came at a time when the company's performance had been affected by the global financial crisis, persistently high New Zealand and Australian currencies and a series of natural disasters that had affected global tourism flows.
The company this week upgraded its forecast operating earnings before interest and tax (ebit) for the year ending June 30 to $4 million from break-even, with an operating loss after tax of $1.4 million, down from an expected loss of $4 million.
Tourism Holdings also forecast ebit for the 2012 financial year of about $17 million, with net profit after tax of $6 million, citing positive impact from the Rugby World Cup, full-year contribution from Road Bear in the US and a reduction in fleet-related costs in Australia.
Smith said the independent committee of directors unanimously recommended shareholders did not accept the Ballylinch offer.
The directors would engage with Ballylinch to see if it was willing to raise its offer and the company had also approached a range of other parties to test their interest in making a competing offer.
At this stage, the company had not received any additional interest or proposals.
Shares in Tourism Holdings closed unchanged yesterday at 70c.