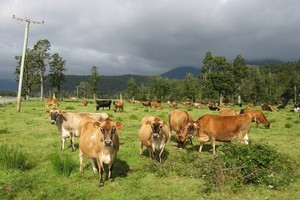 The independent directors of takeover target NZ Farming Systems Uruguay are selling into a takeover offer and recommending other shareholders do the same.
NZ Farming Systems yesterday issued a target company statement in relation to a 70c a share takeover bid by Singapore-based Olam International.
Olam owned 78 per cent of the company after a successful takeover bid last year, also at 70c a share. It is now seeking to buy the rest of the shares and take the company off the market.
An independent adviser's report by Grant Samuel valued the company's shares in a range of 60c to 69c.
The report said the offer was about a 24 per cent premium to the closing price of 55c a share before the offer was announced and a 26 per cent premium to a volume weighted average price for the previous 30 trading days.
NZ Farming Systems, which was set up by PGG Wrightson to develop dairy farms in Uruguay, said last week earnings for the year ending June 30 would be ahead of the previous forecast, primarily thanks to stronger milk production and milk prices.
Forecast earnings before interest and tax for the year was a US$8.3 million loss, an improvement of US$2.9 million, excluding a management agreement termination fee and profit on the sale of land.
In a letter to investors yesterday, independent director Graeme Wong said shareholders should take account of the likelihood of a large capital raising in the short term.
Shares were likely to continue to be thinly traded, production forecasts depended on high average yield per cow and financial performance was sensitive to milk, corn and grain prices, Wong said.
Shareholders had no assurance of getting any dividends in the short to mid-term and there was no immediate prospect of any other major buyer.
"The independent directors intend to accept the Olam offer in respect of our own [NZ Farming Systems] shares," Wong said.
Olam's managing director for coffee, dairy and commodity financial services Vivek Verma, who is also chairman of NZ Farming Systems, said the independent adviser's range supported Olam's message to shareholders that it was an attractive price for their shares. NZ Farming Systems shares closed steady yesterday at 70c.