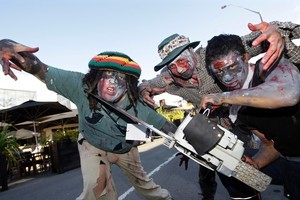 In bad news for zombies the Zero Budget has stripped KiwiSaver of its 'no-brainer' entry requirements.
For if the election-contingent Budget measures are implemented, the decision to join or remain in KiwiSaver will need half a brain at least.
After the drastic claw-back of the KiwiSaver incentives proposed in this week's Budget, members should be reaching for their calculators.
John Key, it seems, is betting no-one will bother.
"The one thing I've come to learn is the biggest single driving factor in KiwiSaver is inertia," Key said in a bout of pre-Budget thinking out loud.
It is true that KiwiSaver was designed around that principle. The 'opt-out' model was originally expected to slowly build KiwiSaver numbers as people, through sheer disinterest, were co-opted into the savings scheme.
Instead, against the run of play, KiwiSaver was a hit. People voluntarily joined up in huge numbers: attracted by the incentives, definitely, but also because the scheme tapped into a latent demand for some kind of direction on retirement savings.
According to the latest IRD statistics, over 1 million of the 1.7 million KiwiSaver members have opted-in to a scheme while only 618,000 have been 'auto-enrolled'.
Even if you subtract the 300,000 or so members who are under 18 and nominally opted-in (thank Mum), that still leaves well over 700,000 people who made a choice to join KiwiSaver and who might, just as easily, choose to drop out.
Will Budget brand KiwiSaver create a zombie retirement savings system?