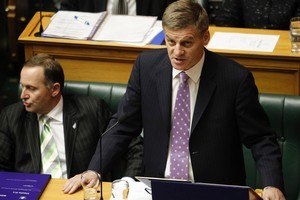 Bill English's third Budget sets an ambitious path back to surplus in four years from its record $16.7 billion blow-out this financial year.
National is trumpeting the Budget as evidence of its economic management credentials.
But the Opposition accuses it of using flimsy forecasts and of having no strategic plan at all for economic prosperity.
A heavy borrowing programme in which an average $380 million a week was borrowed this year will fall to $100 million a week in the next year.
By 2014-15, the government forecasts, the country will be in surplus.
The two Canterbury earthquakes have put pressure on the books and the total cost of them this financial year, including for the Earthquake Commission and Accident Compensation, is put at $6.08 billion.
Mr English said no known natural disaster had had a bigger impact on a developed economy as the earthquakes, the total damage amounting to $15 billion, or about 8 per cent of GDP.
Japan's earthquake and tsunami were estimated to have caused damage equivalent to 3 to 5 per cent of its GDP.
The Budget passed its first test yesterday when credit-rating agency Standard and Poor's saw no need for any change to its rating on New Zealand.
"Phil Goff might not like it, but Standard and Poor's does," Prime Minister John Key boasted in Parliament while scoffing at his Labour rival.
The opinion of credit-rating agencies matters a great deal to the government, because changes in their ratings can affect interest rates and therefore borrowing costs, and directly affect voters' pockets.
Because of the sensitivity over cost-of-living increases, the government is making much of the present low interest rates - a result of the global financial crisis.
Mr Key said a re-elected National government would "deliver interest rates lower than they would be under Labour".
"That is what good economic management looks like. That is the dividend of Budget 2011," Mr Key said.
Mr Goff said the Budget had failed to deliver a real plan for prosperity.
And he questioned some of the assumptions on which the forecasts were based - citing the $4 billion difference between Inland Revenue and Treasury revenue forecasts.
"New Zealanders will be sceptical today about the heroic Budget forecasts that predict strong economic growth and higher wages just around the corner, "Mr Goff said. "They always seem to be just around the corner."
GDP growth is forecast to reach 4 per cent in the next year, followed by 3 per cent and 2.7 per cent rises. The Budget forecast 170,000 new jobs in the next four years.
Many of the jobs will be in the reconstruction of Christchurch.
Mr English said the Budget was about "building our future".
"This is not a typical election-year Budget. It is a responsible Budget appropriate to New Zealand's situation."
Asked what he would say to a family who might lose from changes to Working for Families, he said: "What I would say to that family is that a strong and growing economy is the best assurance that they will be able to meet the cost of living.
"We have supported them strongly through a recession, borrowed a lot of money to do it, and these relatively moderate changes are going to allow us to continue to support them ... as they pick up wage increases.
"I'd be optimistic about their outlook and I think they are realistic about the extent to which the government can support them."
This year's operating deficit of $16.7 billion, excluding gains and losses in accounts such as the super fund, is forecast to fall to $9.7 billion in the next financial year, followed by deficits of $4.09 billion and $719 million and a $1.29 billion surplus in the 2014-15 year.
Cuts to entitlements in KiwiSaver, Working for Families and student loans will make up some of the shortfall.
And up to $7 billion from partial sales of state-owned assets has been factored into the government books - even though it has not yet received the electoral mandate to proceed with the sales.
But the harshest cuts in yesterday's Budget may be yet to come, as the state sector saves just under $1 billion over the next three years.
Government departments and agencies will have to make the cuts themselves, and the government has ditched responsibility for civil servants' KiwiSaver employer contributions, making agencies pay them from existing budgets.
Changes to KiwiSaver will save the government $2.6 billion over four years.
Working for Families changes will save $448 million over the same time, and student loan changes $446.6 million over five years.
Parliament was sitting under urgency last night to pass the Budget's KiwiSaver changes, although they won't take effect until after the election.