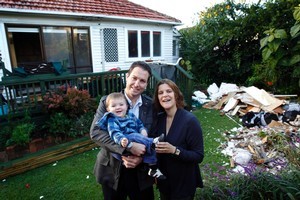 Low interest rates and more benevolent banking terms are igniting fears - and delight in some quarters - that Auckland could be set for another housing boom after a flat four years.
The Real Estate Institute this week unveiled a new Auckland average house sale high of $479,500 recorded last month, up 2 per cent on March.
Helen O'Sullivan, REINZ chief executive, was pleased.
"The Auckland region's days to sell also dropped in April, down to 34 days, with the region continuing to lead the national statistics in terms of days to sell, reflecting the continued tightening conditions in the Auckland market," she said.
The Reserve Bank was not so pleased. Its financial stability report complained how national house prices were still high, sliding only 5 per cent from their peak, or about 13 per cent in inflation adjusted-terms.
Suggestions were being made of Auckland's market rising again, the bank said.
"There are few signs of an excess of dwellings, particularly given the earthquake-related damage in Christchurch. Some recent data has also suggested Auckland house sales and rents are strengthening."
Glenda Whitehead of QV Valuation noticed how Auckland sales activity had picked up in the past few months.
Higher volumes were not necessarily sparking price rises across the city but pockets were reacting positively to good new listings, she said. Listing levels were subdued because sellers generally thought now was a bad time, taking a wait-and-see approach.
That was frustrating buyers who had been looking for a long time, unable to find properties to suit them, she said, particularly near the city centre.
She has also noticed vultures on the wing, swooping on places selling in what they think is the bottom of the market.
Auckland prices dropped only 0.5 per cent in the last year, QV found. Its research director, Jonno Ingerson, said the city's values "moved within a narrow band for most of the last 18 months. In recent months values have been slightly variable, but there is little evidence at this stage of values moving significantly up or down".
Peter Thompson, Barfoot & Thompson director, is predicting a fairly flat market for at least another year but then he envisages a take-off once again.
Aucklanders don't like to lose so rather than sell a place for less than they paid, they are simply waiting out the market, he says. Housing can't be over-priced as the IMF said this week, Thompson believes, because free-market philosophy applies: people will only pay what they perceive a place is worth.
The Institute of Economic Research's Shamubeel Eaqub does not think low-deposit mortgages will attract as many people as at the peak of the boom, when there was also a rush of landlords to the sector.
Tax changes removed those incentives. "Given the mortgage affordability issues and that rents do not make economic sense for an investor, it may be a while before house prices rise," he says.
One of the drivers of the previous housing boom was the availability of cheap credit. A common theme to last week's rash of first-half bank results was that they are again keen to lend - although borrowers are more cautious about being caught up in the honey-trap of easy money.
There are also signs that banks have started to increase the amount they are willing to lend for each property. Claire Matthews, a senior lecturer at Massey University's Centre for Banking Studies, said banks were lending 95 to 100 per cent of the value of residential properties before the global financial crisis in 2008.
"When GFC hit it got difficult to borrow more than 80 per cent. In more recent times there is evidence that they are starting to lend to around 90 per cent, but still not up at around that 95 to 100 per cent level," she said.
Westpac NZ chief executive George Frazis said the economy had endured a rough economic ride over the past two or three years, but there were clear signs of a recovery.
"The housing market is picking up and retail spending, outside of Christchurch, is starting to increase," he said. "The point is, we need to move from caution to confidence."
It was a similar story from two of the banks that reported last week - ANZ and BNZ.
Another common theme was the number of borrowers who are "deleveraging" - or paying off debt. For the banks, this is part of the problem.
"Invariably what happens is some of the lower quality loans are not repaid and some of the better ones are," said John Kensington, acting head of financial services at KPMG.
"Then they start to see shrinkage of lending and they need to think about how they are going to reverse that trend," he said.
Banks are like any business - they are keen to sell their product, which for them means selling more loans.
But Kensington said he would be surprised if there was any return to the profligate lending policies of the past, or an immediate property bubble as a result of the banks loosening their purse strings.
He thinks the banks will be prepared to lend, but carefully and at quite realistic amounts.
In the past, what typically has put banks under pressure has been their willingness to lend up to, and sometimes beyond, 100 per cent of the value of the property.
"It would be very unwise of them to go out and start rashly lending at 100 per cent of a property's value again, and I don't think for a minute that they will do that because they will be mindful of what has gone on," he said.
"But on the other side of the coin, I don't think there are many borrowers who want to do that either."
Eaqub says easy lending was one of the components that led to the bubble in 2007 but the level of mortgage approvals is still quite low, despite attractive mortgage rates.
"I'm not convinced that there will be runaway growth in lending just because banks want to lend more money," he said.
"From a medium-term perspective, in terms of the outlook for the economy, a little bit of lending growth would be positive in terms of driving the recovery forward, but at the same time we have learned the lessons of building a recovery on the back of debt and the picture is not pretty."
Reserve Bank data shows mortgage approvals were very low last year and they have remained that way so far this year.
"By and large, New Zealanders are being much more cautious about the honey trap of cheap credit," Eaqub said.
For the moment, there are few signs that easier credit is prompting another property bubble.
Reserve Bank Governor Alan Bollard believes the housing market has turned the corner but expects the recovery to be gradual.
"There are signs the housing market has bottomed out and it is showing the signs of a bit of growth, but we are really not seeing the preconditions for any big sort of rise in house prices," he said when releasing the bank's latest financial stability report.
"Are we going to see Auckland house prices really rip away? I don't think so."
Adding on to home and family
With a second child on the way, Gareth and Amanda Vaughan are building on to their Royal Oak home.
They are among the many Aucklanders taking advantage of lower interest rates.
"It was either move or extend and we looked around," explained Vaughan, father of 1-year-old Hamish.
"We're adding on two bedrooms and a bathroom. It was a two-bedroom place and when we moved here in 2007 we always knew at some point we'd need more space so we're adding a second level.
"We had a bit of a look around at other places to buy but we're happy with the location. Moving would be pretty daunting. In terms of what we could afford, we'd have to move to a suburb further out and that would mean a longer commute.
"Obviously interest rates are fairly low at the moment and may stay that way for a while. We also have decent equity in the house to give us additional confidence."
Additional reporting: Brian Fallow