The current global economic and business climate means the Australia-New Zealand relationship - always a close one - takes on an even more critical dimension, writes Alex Malley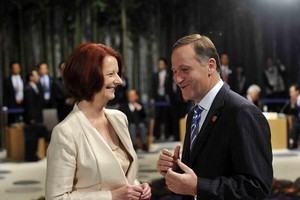 Continuing global economic volatility, coupled with the social and economic shocks brought about by the natural disasters which occurred in both New Zealand and Australia means the business community is faced with some significant challenges.
Addressing these challenges will require businesses to act with a combination of energy, imagination and foresight. Governments in both countries will need to provide unprecedented levels of brave leadership that might result in electoral pressure. But more about that later.
Two developed, modern economies, New Zealand and Australia are similar in many ways, and their geographical nexus - as part of a dynamic, rapidly evolving and hyper-competitive region - offers both great opportunity and significant challenge.
Australia remains New Zealand's largest export market and source of imports. Both nations have large - and growing - trade relationships with economies in southeast and northeast Asia.
With New Zealand and Australia having first signed the Closer Economic Relations Agreement in 1982, moves toward greater and possibly full economic integration have been the subject of discussion for quite some time. But while those talks have meandered along, other economies in the region have taken decisive action and have created the right environment for innovation to flourish, and are reaping the economic benefits of having done so.
Many Western economies find themselves in situations where the amount of compliance management has strangled the opportunity for entrepreneurial activity. In the case of New Zealand and Australia, the irony of that situation is palpable, as it was innovation and entrepreneurship that built these two nations. Recapturing this spirit will be critical to ensuring businesses in these economies thrive, operating as they do in a region where entrepreneurialism is driving growth to astronomical levels.
Though comparisons with the economies of Europe or North America might make the New Zealand and Australian governments feel good about our relative weathering of the global financial crisis, a much more relevant benchmarking exercise would be against some of our Asian neighbours who represent sleek, efficient, high-performing prototypes.
To establish the appropriate regulatory and legislative platform upon which businesses can thrive, our governments will need to adopt a perspective that goes beyond the short-term obsession with the current electoral cycle. It will take some brave decisions that may not benefit them in the electoral sense but will be for the long term economic good.
Making the necessary investment in infrastructure (roads, rail, ports, telecommunications) provides a classic example. Investment in major infrastructure creates jobs, increases productivity, increases our overall standard of living and strengthens international competitiveness. It drives sustained economic growth, and helps insulate against future global financial and economic shocks.
Sufficient and targeted investment in education will deliver the skilled workforce necessary to ensure such infrastructure is effectively delivered.
These are major investments, the benefits of which may only be seen in the next generation. In light of the prevailing current political culture in both countries, with their focus on immediate political payoff, such an approach might appear counter-intuitive.
As one example of areas in which New Zealand and Australia can meaningfully move towards a single economic market, CPA Australia has strongly advocated for the governments to establish a single body to set accounting standards for both countries and for the creation of a single body to set auditing and assurance standards for both countries.
Duplication of these types of bodies hinders the sharing of expertise and is not in keeping with the overall goal of reducing regulation. For, while good regulation has a continuing and important role to play, duplication and unnecessary red tape makes the important task of innovating, seeking out new markets and remaining competitive all the more difficult. Allowing trans-Tasman companies to issue a single set of financial reports and employ a single set of accountants can help our many New Zealand members lower the cost of doing business in Australia.
This year CPA Australia celebrates its 125th anniversary and though much has changed in that time, one constant has been our organisation's and our members' emphasis on the importance of strong business management practices.
Far from being incompatible with notions of entrepreneurship I have highlighted earlier, businesses that have their fundamentals in place and their houses in order are best positioned to successfully innovate and grow. A firm grasp of how one's business is tracking through measures such as financial management and debtor control, along with an understanding of the external environment, including competitor analysis, will not only free up more business resources for entrepreneurship and innovation, they may actually serve to identify such opportunities.
This is particularly so in tough times. Sadly, the two nations have recently been linked through unfortunate circumstances. The floods which affected large parts of eastern Australia in January and the Christchurch earthquake have extracted a severe toll, in terms of human tragedy as well as social and economic impact.
In response to a previous natural disaster, CPA Australia developed a practical toolkit aimed at helping businesses manage the aftermath of such disaster. Again it focuses on good business practice.
Though one hopes businesses will rarely need to call on such a resource, it has proven a relevant and practical guide for disaster-afflicted businesses on both sides of the Tasman.
It is perhaps telling that businesses have found it most useful in helping them negotiate the regulatory and compliance minefield that opens up in the aftermath of natural disaster.
Political and business leaders able to look beyond what has unfortunately become conventional wisdom may just secure themselves a golden legacy and place their nation, or business, at the economic leading edge during a dynamic and volatile period. Both nations after all, have a history of successfully punching above their weight.
Alex Malley is CEO of CPA Australia