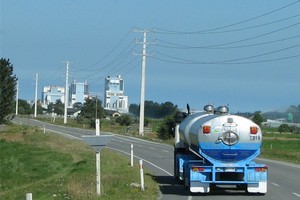 Fonterra says it has hit a new export record, with 229,000 tonnes of its dairy products leaving New Zealand shores in March.
Recent warm, wet weather coupled with demand from its products from China, South East Asia and the Middle East, had driven the record result, Fonterra Trade & Operations managing director Gary Romano said.
"In these regions, we are seeing the emergence of the middle class with more discretionary income and a desire for more nutritious foods. Dairy fits the bill."
Romano said Fonterra's supply chain was exporting on average a container every 2.6 minutes, or 560 containers per day.
"As a result of this effort we expect the record month will inject around $1.2 billion into the New Zealand economy," he said.
- NZ HERALD ONLINE