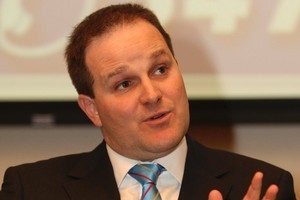 Justice Minister Simon Power has resigned from his position as State Owned Enterprises minister.
His portfolio would be handed over to current State Sector Minister Tony Ryall, the Government has announced.
The move comes ahead of Mr Power's planned resignation from Parliament at this year's General Election.
Prime Minister John Key said he had handed over the portfolio to avoid allegations of conflicts of interest when he returned to the commercial sector.
"Mr Power approached me yesterday indicating that because of his impending retirement from Parliament, this change should be made.
"The change is being made because of Mr Power's concern that if he remained in the portfolio there could be a perception of a conflict of interest as he made the transition to the commercial world after the election."
Mr Power confirmed the decision today, saying it was a necessary step to ensure transparency after his retirement from Parliament at the next election.
"This was my decision, and is based purely around my transition to private life after the election," he said.
He described the move as his "only option".
Mr Key thanked Mr Power for his work on the SOEs portfolio.
He had played a key role in developing National's plans to sell up to 49 per cent of some SOEs including Meridian Energy and Mighty River Power.
"I want to place on record my thanks for Mr Power's work in the SOEs portfolio where he has made a big contribution, including work on the development of the Government's proposed mixed ownership model."
The change in portfolios takes effect immediately.
- NZ Herald staff