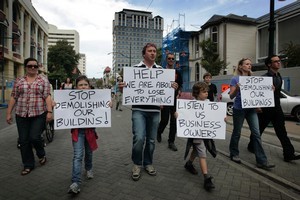 Civil Defence could have communicated better with frustrated business owners in Christchurch, its minister John Carter says.
At least 100 people marched through town yesterday demanding access to their buildings and information from Civil Defence, with some breaking through the cordoned-off central business district. They were removed by police, but no arrests were made.
The frustrated workers say they have had little information from Civil Defence since the 6.3-magnitude quake struck exactly a month ago.
More protests are expected today, despite pleas from the Civil Defence for business owners to be patient.
Police say they will arrest any business owner who deliberately breaches a cordon in the CBD.
"We're working through this methodically and logically and without emotion, and while we understand that there will be people who are anxious, we're just going to deal with it in the sensible way that you would expect us to," Mr Carter told reporters this morning.
Commenting about business owners' complaints about feeling out of the loop, Mr Carter said: "I think there maybe is an area there where we might have done more, but having said that of course there was a lot of information we didn't have."
He understood the frustration of business people who felt they had been ignored.
"I can understand that. We've been focusing first of all on rescuing people, secondly on recovering bodies.
"Now we have got the stage where we can address these concerns, and we are. We are taking all the steps possible."
The situation should be kept in context, he said. "We're actually dealing with an unusual event here and it's only been four weeks (since the earthquake)."
Civil Defence was making good progress, he said.
It only had a list of building owners but was now working to compile a list of tenants and business owners.
"Now that we've got to the stage beyond the rescue and recovery we're pausing so that we can accumulate the knowledge that we need so we can contact all those people who have an interest, and so we can make progress in the way that they expect us to," Mr Carter said.
Civil Defence would try to notify business owners as well as building owners when demolitions were necessary.
"We can't guarantee that. There's been occasions where we've been demolishing a building, the notification's been given, all that stuff. The buildings come down, then we find the building next door suddenly becomes dangerous and we have to take that down immediately as well."
Mr Carter also said he was totally satisfied with the work of Civil Defence national controller John Hamilton and acting controller Steve Brazier.
"They're good people, they're doing the job I want them to, that the Government expects of them, and they're doing it for New Zealand."
Civil Defence is working with the Canterbury Business Recovery group to allow business owners limited and controlled access to the quake-damaged red zone from Thursday.
Earthquake Recovery Minister Gerry Brownlee said a process was being looked at to allow more people to get into the CBD to safely access their stock, but it was not a fast process.
It is still unsafe in the CBD, and authorities did not want to see any further death or injury.
"We are not going to rush it. It's too risky."
Mr Brownlee asked business owners to consider whether their stock was worth more than their lives.
"We are not going to lose any more lives simply because we rush at things."
Setting out a timeline for access to the CBD was incredibly difficult, he said.
Canterbury Chamber of Commerce CEO Peter Townsend said his organisation was also working with Civil Defence on getting more access to the CBD for business owners, but there needed to be patience.
"This is not a time for placard waving."
Business owner Joe Arts, who owns a printing company on High Street, said he registered with the business recovery group four weeks ago but had heard nothing from Civil Defence.
"The Civil Defence cellphones are unanswered and have flat batteries most of the time. They don't return calls or emails," he told Radio New Zealand.
Mr Arts said he was frustrated he couldn't enter the CBD with a structural engineer to assess his business.
"The only way we can get any information out is from journalists taking photos of our building or contractors saying the building has been damaged," he said.
Mr Brazier yesterday said 3500 people had registered with the business recovery group.
About 350 people had already been granted access and about 500 people would be by the end of this week, he said.
A moratorium on demolishing buildings in the CBD had been extended until Friday.
Christchurch businessman Kurt Langer, who has a photography studio in Cashel Mall, said protesters felt out of the loop and were concerned their buildings would be demolished without any consultation.
"We are all going bankrupt. We are about to lose everything and they will not tell us anything. It's a complete police state," he told NZPA yesterday.
Mr Langer said a structural engineer had told him his building could be made safe enough to enter.
"I could retrieve at least half a million dollars of irreplaceable goods within half an hour," he said.
- NZPA, Jarrod Booker