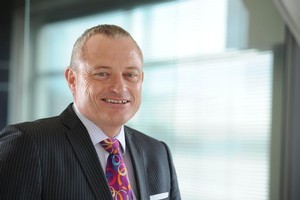 Submissions closed last Friday on legislation involving over $1 billion of taxpayers' money. It sets out Government plans for the introduction of the Ultra Fast Broadband (UFB) network.
I fully support the underlying sentiment driving the UFB network. It's an important investment to ensure this country survives and thrives in the digital age.
The UFB initiative can succeed, but we need to get it right. And it needs to be fair. Unfortunately, as it stands the Telecommunications (TSO, Broadband and Other Matters) Amendment Bill will neither be right, nor fair.
I believe that the bill if passed in its present form could see New Zealand go backwards by re-establishing the Telecom-like monopolies of the 1980s and 90s, stalling telecommunications infrastructure investment and allowing previous-era price hikes and bad service to come back and haunt us.
The bill contains three significant flaws likely to rob New Zealanders of choice and trap us into a decade of unregulated, high-priced broadband services. The first flaw is the 10-year regulatory "holiday" the bill proposes to grant to Government-funded fibre services. This locks out until late 2019 the consumer's watchdog, the Commerce Commission, from recommending regulations around price and access to UFB services.
The commission will effectively be prevented from ensuring Kiwis get high-quality fibre service at a fair price.
I'm also not reassured by Government claims that regulation would be addressed through contracts with its UFB investor, Crown Fibre Holdings (CFH) and nothing in the new legislation provides any additional comfort. There's nothing in the bill to stop CFH changing the contracts at any time, and in the absence of Commerce Commission input on pricing, little to protect consumers.
In truth, regulating its own investment surely represents a conflict of interest for CFH. The Government also argues that the UFB scheme is designed to ensure long-lasting competition through an open-access fibre network.
However, many fibre services will be rebundled. Consumers will have little choice once they switch to fibre, and are unlikely to go back to copper if they are unsatisfied with price or service - particularly if one company ends up owning both fibre and copper options.
And while UFB prices may be low initially, many consumers don't realise they would be likely to face significant costs to shift from copper to fibre-based services, such as connection fees and equipment upgrades.
Second, I question the bill's proposals to overbuild, or duplicate, networks already able to provide the same services as UFB.
With fibre and cable able to deliver high capacity UFB-like services to Wellington, Kapiti, and the CBDs of all major cities, overbuilding existing cable and fibre networks in such areas represents bad use of public funds.
It makes more sense to direct UFB investment to where little investment in fibre or cable exists and for infrastructure investment to encourage, not discourage, private investment. Why not direct the $1 billion to areas where the market fails to deliver UFB services?
Finally, just as competition is healthy for UFB delivery, there's also the need for healthy competition around content and its distribution.
We know from 100Mbps trials TelstraClear conducted with residential customers in Wellington and Christchurch last year that Kiwis are unlikely to seek upgraded broadband solely because it's faster.
For these reasons I believe there's a real risk taxpayers will sink $1 billion into UFB for little outcome.
What if, a couple of years on, people see nothing new on their screens and the prices aren't good enough to make them want to shift from copper? What then happens to the Government's goal of connecting 75 per cent of New Zealand households to broadband?
Over the past 20 years in a hostile environment and against a largely monopolistic incumbent, companies including TelstraClear's predecessors, Telstra, and CallPlus, Compass, Vodafone, Orion and others have made large investments in our telecommunications and provided Kiwis with choice.
Currently, TelstraClear is preparing to work with any of the successful UFB bidders to deliver services across the fibre network, including any entity that may come from a separated Telecom should its bid to partner the Government to build the network be successful.
Despite my misgivings, I believe the sentiments driving UFB are sincere and future focused. But this country needs a telecommunications environment where past and new investors can compete on a fair and reasonable basis.
The Government needs to demonstrate it has New Zealanders at the heart of its fibre ambitions by amending the bill, leaving the Commerce Commission to get on with its job and targeting public funds to areas of greatest need.
* Allan Freeth is chief executive of TelstraClear.