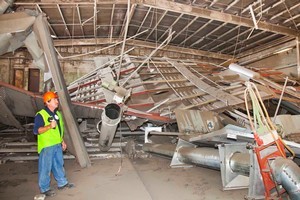 Godfrey Hirst subsidiary Canterbury Spinners is shutting its Christchurch operation and axing 195 jobs at the factory after it was destroyed in last month's earthquake.
The Bromley based carpet manufacturer said the plant had suffered extensive and irreparable damage during the earthquake, leaving the company in the "terrible situation" of having to close the operation.
Godfrey Hirst New Zealand general manager Tania Pauling said the company planned to relocate some staff to other plants in Lower Hutt and Dannevirke.
Thirty staff have indicated they would like to transfer to one of the plants and 26 will be staying on at the Christchurch plant in administration and support roles, a spokesperson for Godfrey Hirst said.
National Distribution Union's southern regional secretary Paul Watson said the news came as a heavy blow for workers already reeling from the earthquake.
"Many of these workers live on the devastated east side of the city where the factory is based. The future of many of their homes is uncertain and now they have to face worrying times in terms of finding alternative work that can meet their current living costs," he said.
Watson said the union had been able to negotiate a satisfactory redundancy and relocation agreement, superior to that which would have been applied in "normal circumstances".
However the government could do more to support affected workers, he said.
"Canterbury Spinners workers appear not to qualify for any earthquake job loss cover and that is unfair," Watson said.
Godfrey Hirst said the company remained committed to Canterbury and would consider re-establishing the plant in an alternative location, if one could be found.
Even then it could take more than 18 months to re-commission a purpose built plant at a cost of tens of thousands of dollars, and the likelihood there would be a shortfall in insurance to cover the cost of rebuilding.
The Bromley plant spans 23,000 square metres and is situated on five hectares of land.
The company has ramped up production at its two North Island plants to meet demand from customers.
Pauling said the company was offering counselling to affected staff and would assist in finding alternative employment for staff who were not relocating to either of its North Island operations.
- NZ HERALD ONLINE