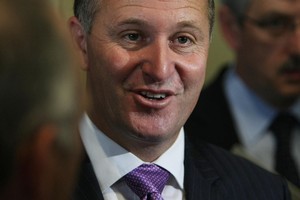 Prime Minister John Key has conceded he received no official advice that some areas of quake-stricken Christchurch may need to be abandoned.
The concession comes as official Civil Defence figures show that some 2198 homes in Christchurch have been deemed unliveable - far less than the 10,000 homes Mr Key has said may need to be knocked down.
Mr Key yesterday said parts of Christchurch will have to be abandoned and up to 10,000 homes could be demolished as a result of last month's earthquake.
Concerns have been raised over the impact that would have on Christchurch residents, who are still in the dark over which areas would be affected.
Labour leader Phil Goff said today that the estimated number of homes facing demolition was "pretty distressing news for those involved".
"If a suburb can't or a street can't be rebuilt, then that's the facts of it.
But people need some certainty about that quite quickly," he said.
Responding to a question from Mr Goff in Parliament today, Mr Key conceded he had received no official advice that some areas would need to be abandoned.
He also conceded he had not consulted with Civil Defence director John Hamilton before making the statement.
When pressed on the uncertainty the statement had created for communities likely to be affected, Mr Key said there would be some anxiety.
"We have to acknowledge the anxiety that those that have damaged homes that may not be able to be rebuilt are going through. I think everyone understands and appreciates that," he said.
The number of homes likely to be demolished is also up in the air.
While only about 70,000 of the 190,000 homes in Christchurch have so far been inspected, a Civil Defence spokesman said it was unlikely that number would rise significantly.
Mr Key this morning said the estimate of 10,000 houses requiring demolition was "very much back of an envelope".
Earthquake Recovery Minister Gerry Brownlee today defended the estimate, saying it was based on initial advice from the Earthquake Commission's geotechnical engineers and was not based on the red-stickering process.
He said the estimate took in the 3500-odd houses that already needed to be demolished after the September quake, as well as aerial observations of land damaged in last month's quake.
"The number itself is a realistic estimate of where it may end up," he said today.
Mr Brownlee would not comment on which suburbs would be affected, saying there was "no basis" for reports that eastern suburbs like Avonside, Bexley and Dallington needed to be relocated.
"We know where the damage is, but I think it's irresponsible to go casting that broader web over the whole of the district. We want to get good information."
Asked about the emotions people would be feeling, Mr Brownlee acknowledged they would be anxious.
"What we have put out is the concept and I think as nerve-wracking as that is, people are in broken up homes with a fair idea it could be them.
"I'm sorry we can't be more specific, but I think it's going to take a long time for this city to go through a whole lot of emotional things about not only residential areas, but also the inner-city and everything else."
- NZPA