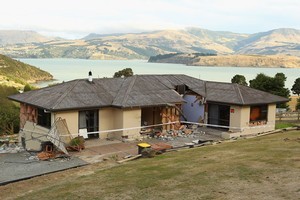 Up to 10,000 houses damaged in the Christchurch earthquake will need to be demolished.
John Key revealed the extent of the damage to suburban Christchurch in a press conference this afternoon.
He said a further 100,000 had suffered damage which would need to be repaired.
"There will be some parts of Christchurch that can't be rebuilt on," Mr Key said, because the damage from liquefaction was simply too great.
"How many people that will affect, we don't know. That's the geo-technical advice we're getting at the moment."
Mr Key also had an update on portaloos and the chemical toilets in the region.
"What is clear is we don't have enough ... that situation is being rectified as quickly as possible by bringing in more from overseas.
"However there is no evidence that they have been allocated on anything other than the basis of need."
Report to assist in Rugby World Cup decision
Mr Key said an engineer's report on AMI stadium in Christchurch would paint a clearer picture of whether the city could host Rugby World Cup games.
The report was still a couple of weeks away, he said.
"The Cabinet understands the significance, if possible, of wanting to have the world cup hosted in Christchurch. In the end the final decision is made by the IRB ... we're working closely with them."
He acknowledged the city's infrastructure, including public transport and accommodation services, would need to be rebuilt.
"[But] the biggest issue is the stadium."
He said if the stadium can be ready in time, the rest of the issues can then be dealt with.
- with NZ Herald staff