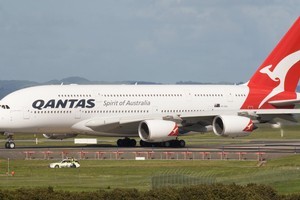 SYDNEY - Qantas' woes with its A380 fleet are still not over, with the airline yesterday revealing one of its superjumbos flew into London on three engines last week because of an oil problem.
A similar incident occurred on the same route a week earlier, when a different Qantas A380 arrived in London from Singapore with one engine idling.
On both occasions, the crew had noticed a reduction in oil supply to one of the Rolls-Royce Trent 900 engines, and had been forced to cut power to it.
The Australian national carrier emphasised yesterday that neither incident was related to the mid-air engine explosion on an A380 flying from Sydney to London last November, which ripped holes in the plane's wing and obliged Qantas to ground its superjumbo fleet for weeks.
Nevertheless, they have brought more unwelcome publicity to an airline plagued by a series of mechanical problems.
A Qantas spokesman said last year's explosion - after which the pilot managed to land safely - involved an internal oil tube, while the recent problems related to an incorrectly fitted external oil line.
Of last Thursday's incident he said: "The flight crew responded to the situation appropriately and there was absolutely no flight safety issue."
The plane - one of the new generation of superjumbos - was flying over Turkmenistan when the crew observed a decrease in oil supply to one engine. They managed to retain thrust until about two hours out of London, when they had to cut power.
The engine was not shut down, however, and had that been necessary, the plane would have diverted to the nearest suitable airport, according to the spokesman.
Qantas also said another carrier - believed to be Singapore Airlines - had experienced the same problem, and it had asked Rolls-Royce for an explanation.
Earlier this month, the Australian airline estimated it had lost A$80 million ($108 million) due to last year's engine blowout, which happened shortly after takeoff from Singapore.
That did not include the A$100 million repair bill for the plane, which Qantas expects to be covered by insurance and "contractual arrangements" with Rolls-Royce. The companies are still discussing compensation.
Airline sources said the recent oil problems might relate to an engine design flaw that caused a fitting to loosen when subjected to vibration.