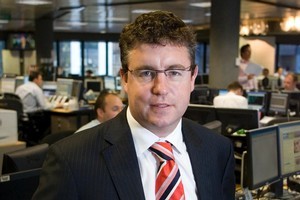 Two indicators out yesterday show business confidence was picking up before last week's earthquake.
Reserve Bank figures show January continued the rising trend in business borrowing evident since last September.
Business sector credit at $73.3 billion is still down 2 per cent on a year ago, and that was 7 per cent down on the recessionary levels two years ago. But it has risen nearly $2 billion or 2.6 per cent from its low last September.
Meanwhile, the National Bank's monthly business outlook survey recorded a rebound in business confidence after a retreat in December.
A net 35 per cent of businesses expected better times for the economy over the coming year, up five points on December.
Firms' perceptions of their own prospects strengthened too, a net 37 per cent expecting better times for their own business over the year ahead, up two points on the end of last year.
But the survey was taken before last week's Christchurch earthquake.
"Its impact on confidence should be evident in next month's survey," said the bank's chief economist, Cameron Bagrie.
"For now, all we can do is keep our fingers and toes crossed that the hit to confidence is not too extensive, and that the early signs of improvement we have detected early this year do not get snuffed out."
Other indicators in the survey were mixed. A net 8 per cent of businesses expected to be hiring staff, down from a net 13 per cent in December.
Profit expectations were unchanged at a net 15 per cent expecting improvement and investment intentions lifted marginally.