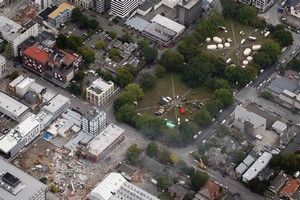 New Zealand's leading companies have launched an effort to restore confidence in quake-ravaged Christchurch.
Fifty chief executives were today briefed by Prime Minister John Key, Finance Minister Bill English and Earthquake Recovery Minister Gerry Brownlee during a two-hour teleconference.
The executives are members of Business NZ's Major Companies Group CEO Forum, which meet two to three times a year.
Fonterra's chief executive and forum chairman Andrew Ferrier told NZPA the group cleared the meeting's agenda to talk about the earthquake recovery effort.
"The talk was about how do we bring confidence to people of Christchurch right back into the community. Everybody wants to do that, nobody wants to walk away from Christchurch," he said.
"You've had 4000 aftershocks up until Tuesday and then this massive earthquake. People are worried and companies are worried about their people."
The companies developed a steering group to co-ordinate private sector support.
They identified a number of key areas they could help with, including water, housing, infrastructure, health services, telecommunications and financial services.
Each chief executive is develop an action plan for each of those areas in consultation with Civil Defence and the Government.
Mr Ferrier said chief executives were also discussing ideas such as helping employees with house repairs, insurance claims, or relocation.
They also expressed concern for smaller companies which might potentially be wiped out after the quake.
"One of the work streams is going to be working with people in Canterbury and seeing if there are ways were business can help business."
Mr Ferrier said ideas were floating around, but would not take form until another couple of weeks.
"We are all working with a real sense of urgency."
He said the group also talked about raising money for those affected, and many "clever" plans were under way.
As for businesses covering lost wages, he said it was not discussed.
"This is more about the bricks and mortar issues on how we get Christchurch functioning again."
Mr English welcomed the businesses' efforts, and thanked them for donations and offers of support.
"Many of their companies have offices and staff in Christchurch and they are already providing considerable assistance to people throughout the city," he said.
The Government was now working on a business assistance package, he said.
"To ensure that the Government's response is effective and well targeted, we'll work with community and business leaders in Christchurch to confirm their most urgent requirements."
Mr Ferrier said the group would have plenty of opportunities to work with the Government on a financial package over the next few weeks.
- NZPA