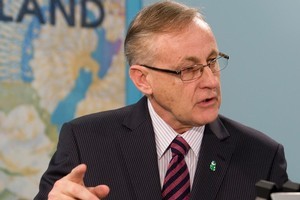 An ASB Bank economist says she expects Reserve Bank governor Alan Bollard to cut the official cash rate in part due to the economic impact of the Christchurch earthquake.

"The personal, economic and financial ramifications for the entire economy from the February 22nd earthquake are becoming increasingly severe as more information comes to hand," said bank economist Jane Turner.
"At a time of national crisis, when the underlying economy is already proving frustratingly weak, a rate cut would potentially be very helpful to the recovery of the economy."
She said she expected the Reserve Bank to deliver a 50 basis point rate cut at the March 10 meeting, if not sooner. The current OCR is 3 per cent.
"The Christchurch CBD faces destruction far beyond that experienced in the September earthquake. As a result, the level of disruption to economic activity will be far greater," she said.
The damage to infrastructure was far greater and the central business district was going to be out of action for a very long time.
"The details remain sketchy, and NZ continues to face huge uncertainties. But we can conclude that this earthquake will take a larger toll on both Canterbury and the wider national economy," said Turner.
"The financial cost is likely to be much higher than the September quake. Much of it will be insured. However, there will still need to be a large diversion of private and public funds and resources to the Canterbury region."
The cost to the Government was likely to be much larger, at a time where the economic back drop was posing challenges to the Government in meeting its Budget.
"Fiscal policy is likely to find itself in a position where it may be tighter than ideal for the broader economy, and monetary policy can provide some offset," said Turner.
Even before the earthquake, the Reserve Bank had already flagged the possibility of an OCR decrease over this cycle should domestic conditions continue to deteriorate.
"This followed a raft of underwhelming data, which indicated economic activity stalled over the second half of 2010. GDP data showed the NZ economy contracted in Q3, and the recovery in the labour market show signs of slowing more recently."
In addition, inflation indicators pointed to inflation pressures being contained for now, suggesting the Reserve Bank still had breathing space on the inflation front.
"Overall, the patchiness of the underlying activity in the NZ economy means that continued monetary policy stimulus is appropriate. The latest Canterbury earthquake adds to this uncertainty, and suggests lower interest rates would be helpful to the recovery of the economy," said Turner.

- NZ HERALD ONLINE