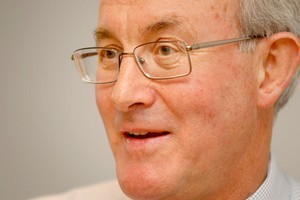 When the rocking and rolling drove him out of Scales House, Kerryn Downey found himself calling government officials, stranded on Manchester St with only his cellphone.
Thousands of aftershocks from Canterbury's September 4 quake made the South Canterbury Finance receiver's task harder, more nerve-wracking.
But in his typically magnanimous style, he expresses sympathy not for himself but for SCF staff and the many Christchurch-based people working for its associated companies like Scales Corporation.
But he does admit to having been frightened at night, particularly in his Christchurch apartment, alone in the dark.
"You're aware of it during the day. You shrug it off, but at night, it's not very pleasant because if you feel one, there's another one in behind," he says with his slight Canadian twang, gained after living in Toronto for decades.
"Staff were very nervous and even now - and I have to touch wood here - we average between one and two quakes a week, generally minor."
For his working week, Downey lives in a unit three streets from Scales House and mostly he enjoys the Garden City: the ease of walking to work despite extensive reconstructive surgery on his right foot, damaged and needing tendon repair after years of competitive squash.
Avoiding Auckland's humid weather and being at the heart of the SCF business are other advantages.
This Rotarian and grandfather is a corporate clean-up merchant, charged with sorting out the country's biggest financial mess, the $1.6 billion SCF state hangover.
His focus is on the positive, ticking off success after a partial payout to the Crown following settlement of the sales of SCF's Hyatt Regency Auckland for $50 million plus, and Christchurch's Hotel SO which owed SCF $20 million.
"Through channelling and earmarking the proceeds from Hotel SO and Hyatt and just generally from cashflow, we have actually managed, just a few weeks back, to repay $150-odd million to the Crown prior claim facility.
"So that's gone back and we see that as one of the accomplishments.
"We have quite sophisticated cashflows that the staff at South Canterbury [Finance] running for us and that anticipates early repayments of loans, sale of properties and other loans - all these issues are well identified and flagged in cashflow going out for 12 months.
"We're naturally focused on the sale process. If we get a block of cash, we'll just make progressive repayments to the Crown with respect to what they've paid out under the guarantee scheme."
This week, he announced the intention to sell SCF subsidiary Face Finance, a specialist commercial plant and equipment financer, after appointing Deutsche Bank as sale adviser to Face (in receivership) with a $205 million loan book.
Downey spends five out of seven days in Christchurch, heading a team of about 20 people and instructing investment bankers, accountants and, increasingly, lawyers after dead loan trails spark litigation.
With William Black, he's trying to claw back the Crown's cash after the August 31 receivership of the failed finance company owned by Allan Hubbard's Southbury Corporation.
But since then, the rural land bubble has burst, the quake destroyed parts of Christchurch, the economy has lumbered on in lacklustre fashion, the property market has turned down further and Downey's name has become synonymous less with cash-ups and more with the courts.
The Treasury said receivership was the single best road to take, forecasting it as the best way to maximise taxpayer returns. Liquidation was never mentioned.
Gabriel Makhlouf, acting secretary to the Treasury, said: "The Crown will effectively become the first-ranked creditor in this receivership, behind those protected by statute, which means that we can ensure an orderly and well-managed receivership.
"Taxpayers will get the maximum value the receiver can recover from South Canterbury Finance.
"This is the cleanest, quickest way to achieve an orderly and well-managed receivership that minimises the cost to taxpayers and minimises the impact on South Canterbury Finance suppliers and the customers it has lent money to."
Worsening markets make some now question those predictions and wonder if liquidation wouldn't have been preferable.
Downey takes a brighter view, stressing success so far, improving apple export prospects to Australia, and rising dairy farmer payouts which he says could help the sale of two of SCF's biggest assets, Scales and Dairy Holdings.
"In terms of Dairy Holdings, we are probably facing a better market prospect. We needed that time to pick the right advisers and make sure we are properly prepared to go to market."
SCF bought the country's largest dairy farming group, Dairy Holdings, from Hubbard for $75.7 million, a price now suggested to be almost double what it was worth.
The other two prizes - 64 per cent of Scales Corporation worth about $72 million and the $90-million Helicopters New Zealand - were tipped into SCF as part of Allan Hubbard's rescue plan.
Indicative bids on Helicopters and Scales were expected in the first quarter of this year, although the Helicopters sale hit a snag when it was revealed last month that the company had lost NZ Civil Aviation Authority approval to renew a United States military contract in Laos and Cambodia retrieving the remains of missing US servicemen, and also missed out on participating in a big oil and gas exploration contract.
Helicopters is appealing the authority's decision on its Southeast Asian operations next month.
Downey says all the asset sales are going according to plan. Scales and Helicopters are the most advanced.
"Those two sale processes are running roughly parallel, led by Goldman Sachs, and they are now into the due diligence processes.
"We've completed vendor due diligence reports and shortlisted parties who have established their credentials. We are encouraged by the identity and calibre of the parties in the process, so that will run for probably the next six weeks or so.
"Dairy is a little bit behind that process but we've just got shortlisted parties there. Dairy is a little bit more complicated because it's now a combined process with other selling shareholders.
"We're still working on the preparation of the due diligence material there and it will be roughly February 25, the target date for vendor due diligence material completion."
Private equity, trade and investment businesses are the main targets as buyers of these big assets, and Downey said Helicopters' civil aviation woes would be dealt with by its buyer.
"We're working very co-operatively with CAA and we're very pleased with the relations we've established.
"They are doing their job, which is to preserve air safety, and it's difficult for them to provide oversight over NZ-registered aircraft operating in Laos, which is 8 to 10 per cent of the business.
"There are some Cambodian operations continuing and it's our view that a purchaser of the business will soon correct that [Laos] problem with their international contacts, so that's a very minor impediment.
"With Dairy Holdings, our dollar, which has declined against the US, and an increase in the payout in dairy commodity prices are two factors which combined are hugely beneficial to our interests in Dairy Holdings."
SCF's loan book is still operating and Downey lauds this as one of the unique features of the business.
"We are very focused on the loan book businesses.
"It's the only finance company which has continued to operate with a business-as-usual mantra and that has been helpful to us, keeping the whole infrastructure together in terms of loan management and reporting, preserving the jobs for employees and all the computer/IT infrastructure.
"In so doing, we commence the process of preparing the loan books to the point where we can start a sale process and that has only just started," he said, referring to Face's announcement on Wednesday.
Hubbard supporters criticise the receivership process.
Paul Carruthers of the Stand By Allan Hubbard Support Team says the returns to the Government can't be calculated.
"Much of it depends on how the asset sale process is handled, which is up to Treasury and the receiver. It also depends on a range of variables, such as rural land values, the world market price of the commodities they produce. etcetera.
"Issues such as the Helicopters NZ's licensing matter in Cambodia, for instance, are also factors that will affect the value of the applicable assets," Carruthers said.
"If the process is managed prudently with wisdom and foresight, however, then it's conceivable that the final result may be more positive than expected.
"I've seen speculation to the effect that there may be no loss in the end, to the other end of the spectrum where some are predicting a loss of up to $900 million.
"It all depends on the process, the economic and market factors at the time, and the prudence of Treasury and receivers," Carruthers said.
Downey is often asked by taxi drivers and others about the prospects of recovering the taxpayers' $1.6 billion.
He says of the speculation: "Oh golly, that's the million-dollar question. Ask me in three years' time. I hope it's sooner because I want to go fishing!"