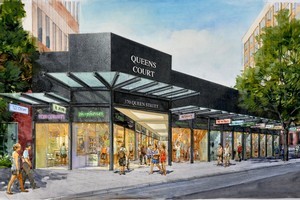 Plans for one of the biggest multi-tenant retail sites in central Auckland have just been released - as it backers count on an improved retail environment.
The redevelopment in the heart of the city's Queen Street will see the establishment of 60 retail outlets - all to be operated as freehold unit titles, and occupying a floor space of 637 square metres.
The former Methodist Church Chapel will be knocked down to make way for the development, located opposite the Auckland Town Hall.
Private property developer Equity Growth Trust part of the Conrad Properties Group - which has developed some of Auckland's biggest inner-city residential apartment blocks, is developing the site.
The site will be known as Queens Court, and is scheduled to open at the end of 2012.
It sold for more than $25 million in 2008 to Korean investor Prince Corporation, which went into receivership last year.
The news comes less than a month after Statistics New Zealand said seasonally adjusted electronic card transactions fell 1.2 per cent in December from November.
Weak figures for sales made using credit and debit cards in the run-up to Christmas were seen as an indication that retailers face further tough times ahead, economists said.
Conrad Properties Group director Jamie Hutchens said the company had taken a long-term view of New Zealand's economic recovery, forecasting that the country's retail sector would return to a healthier trading situation in the third quarter of 2011.
"This sets up the platform nicely for those businesses purchasing units within Queens Court and taking possession approximately a year later - when the economic recovery should by then be in full swing.
"Our longer-term plan for the greater site includes the construction of a multi-storey 360 unit residential apartment block between Wakefield and Airedale Streets with direct access to Queens Court," Hutchens said.
The shops range in size from four square metres through to 74 square metres, and the owners are asking for prices ranging from $185,000 to $785,000.
Some 13 of the units have street frontage directly onto Queen Street, with one fronting onto Airedale Street.
Agent Millie Liang of Bayleys said she believed funding for the development was in place.
Laing said 25 contracts had been secured for space in the development, and much of the interest had come from Chinese investors.

- NZ HERALD ONLINE