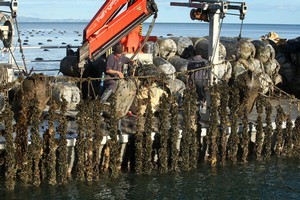 A Government-backed mussel-breeding project aims to boost industry earnings by nearly $250 million.
The $52.1 million project by Shellfish Production and Technology New Zealand (SPATnz) has been given $26.1 million of funding over seven years by the Government's Primary Growth Partnership.
SPATnz is a collaboration by Sanford, Sealord Group and Wakatu Incorporation aiming to domesticate the New Zealand greenshell mussel.
Toni Grant, chairwoman of the SPATnz steering group for the bid, said "it would enable the biggest development in the industry since the start of long-line mussel farming nearly 40 years ago".
"This project will revolutionise the industry by domesticating the mussel and developing selectively bred, high-value product," Grant added.
"It will create in excess of 1000 new jobs and add up to $230 million per year to the New Zealand economy at the completion of the project."
The aquaculture sector is worth about $380 million, with a target to grow to $1 billion of annual revenue by 2025.
Sanford managing director Eric Barratt said the project could help the industry hit its billion-dollar target faster. "Just to grow sufficient spat for meeting the near-term industry needs is going to be a huge undertaking."
Spat is harvested in the wild before being grown on farms and a hatchery would aim to produce product that would grow faster, bigger and better.
"It's focused around selective breeding in the same way as our primary industries have used selective breeding on everything we do, whether it's plants or animals ... to get the maximum out of them," Barratt said.
"This is just taking that same principle and applying it to mussels."
Meanwhile, a partnership between the Crown, Aotearoa Fisheries, Sanford and Sealord Group - called Precision Seafood Harvesting - plans to develop new wild fish harvesting technology that will allow more precise catches and fish to be landed fresher and in better condition.
The partnership would be worth up to $52.6 million over six years, with half the funding coming from the Primary Growth Partnership.
The technology aims to improve revenue by an estimated $100 million a year by 2029.
Barratt said: "To get them both approved has been a big ask ... but the arguments for them were very compelling."