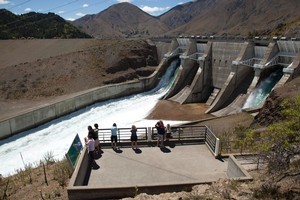 New Zealand's state-owned firms will become more productive and efficient if the Government's partial sell-off plan becomes a reality, says the head of Massey University's College of Business.
Lawrence Rose, who has studied firm privatisation on both sides of the Tasman, said his research indicated previous sell-offs significantly increased market share capitalisation and market liquidity.
"This would have major ramifications for the deepening and transparency of our capital markets and especially the NZX, if they are listed on it," Rose said.
"Liquid and complete capital markets are critical for economic growth and prosperity and are one aspect holding New Zealand's productivity down."
On Wednesday Prime Minister John Key announced the possibility of applying the mixed-ownership model used for Air New Zealand to state-owned power firms Mighty River Power, Meridian Energy and Genesis Power, as well as coal company Solid Energy.
The national carrier is 76 per cent owned by the taxpayer, with the remaining portion listed on the NZX, although the Government is considering lowering that stake to 51 per cent.
Rose said a well-functioning, democratic economy should have most of its assets held privately, rather than by the state.
"I would expect assets held in private hands to generally become more efficient as there would be less government interference and shareholders would be demanding higher returns."
Craigs Investment Partners senior research analyst Grant Swanepoel said listing would allow the state-owned power firms easier access to capital to build extra capacity in the future.
Additionally, extra cash could assist with further offshore expansion of the companies, Swanepoel said.
Meridian has already taken a 50 per cent stake in a $1.26 billion Australian wind farm and Mighty River Power has invested in a geothermal power station being built in the United States.
But energy consultant Bryan Leyland said partial privatisation would not address a fundamental flaw in this country's electricity market - a lack of reserve capacity.
New Zealand needed back-up for periods when weather conditions lowered generation levels, Leyland said.
But increased supply placed downward pressure on prices, he said, which meant power firms preferred to keep generation levels in a "narrow band between too much and too little".
Leyland said that placed the country in a situation where "any sort of contingency brought on a shortage".
"To a generator [reserve capacity] is seriously uneconomic, but to the electricity consumer it's vitally important," Leyland said.
"I personally think we need to change to a different market - a much more competitive market - where the system is co-ordinated centrally and new generating plants are bought on the open market through a tender process."
AT STAKE
Here are the four SOEs the Government is considering for partial privatisation and their company valuations.
* Meridian Energy: $6.7b
* Solid Energy: $3.3b
* Mighty River Power: $3.4b
* Genesis Power: $1.6b