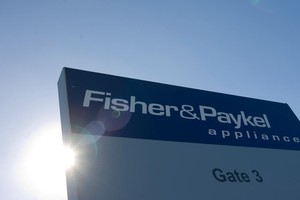 Fisher & Paykel Appliances has cut its earnings guidance, citing deteriorating retail trading conditions and weaker third-party sales of components and technology.
Full-year earnings before interest and tax will be $15 million to $25 million for the company's appliances division, down from the range of $28 million to $35 million it gave with its first-half results on Nov. 26. The forecast for its finance business was unchanged at EBIT of about $35 million.
The company's shares have slid nearly 9 per cent in early trading on the NZSX, down 5c to 52c, equal to their lowest value during the past three months.
"Appliances' trading result was below expectations in November, although this did include a number of unfavourable one-off items," said the company.
"In addition to weaker demand for Appliances' products, prevailing market conditions have also adversely affected Appliances' third party component and technology sales."
The revised guidance is based on the assumption that the earnings trend in November will continue.
The reduced forecast marks that second downward revision for F&P Appliances, which had predicted full-year EBIT for the group of about $78 million at the time of its annual meeting, trimming the outlook to a range of $63 million to $70 million last month.
Today's revision puts group EBIT for the year at a maximum $60 million.
Shares of F&P Appliances traded at 57 cents yesterday and have declined 8 per cent this year. Before today, the stock was rated 'outperform'
based on the consensus of six recommendations compiled by Reuters.