Raghupati Singhania says his country shouldn't be judged only by Games glitches, writes Karyn Scherer.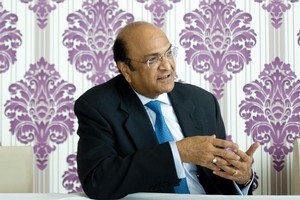 To many New Zealanders, the enduring image of this year's Commonwealth Games in Delhi was the athletes' rooms that - right up until the last second - looked as if they might be more suitable for squatters.
For some, it cemented their image of India as a chaotic, overwhelming place, where the infrastructure has struggled to develop at the same pace as its economy, largely due to excessive bureaucracy and rampant corruption.
According to one of India's most prominent businessmen, that perception is not only unfortunate, but unfair.
"Unfortunately there was a lot of adverse publicity, partly thanks to our own Indian media, some of whom over-played it," suggests Dr Raghupati Singhania. "In fact, it turned out to be extremely successful, with an outstanding ceremony and all the events were wonderfully handled."
Dr Singhania's CV notes that he was a member of the Commonwealth Games Organising Committee, so perhaps it is understandable that he is a tad defensive.
"I'm not suggesting that everything was fine, but to portray it as if the heavens had fallen was unfair," he continues. "I'm not defending the failures, but it needs to be put in perspective. To an extent those perceptions have been washed out because it was an extremely successful event."
He might be a businessman, but Dr Singhania is clearly a capable diplomat as well. And perhaps that's no surprise, given that he comes from one of India's most respected families, whose members have close links to the Gandhis, and whose influence extends across a wide swathe of India's corporate sector.
As head of JK Tyre, Dr Singhania pioneered radial tyre technology in India and helped grow the company from a small local business to a major global player exporting to more than 75 countries.
Last month, he was voted CEO of the Year by the Asia Pacific HRM Congress, which described him as a "prolific visionary and an entrepreneur who has a fondness for technology and innovation". These days he spends much of his time on trade missions and spreading the gospel of globalisation. He is also a director of the wider JK Organisation - which has its fingers in all sorts of industrial pies around the world, including paper, cement, textiles, agriculture, cosmetics, insurance and technology.
He also finds time to be an adviser to the Asia New Zealand Foundation and it was in that capacity he recently visited Auckland.
He led his first trade delegation here back in the early 1990s, and over that time has watched approvingly as New Zealand has gradually shifted its trade from the West to the East. But he now worries that officials are too enamoured with China, and that too many Kiwi businesses are still overlooking the opportunities India has to offer.
"China, yes, but India, hardly. It is minimal. There is too much talk, so we need to build it up ... I, for one, strongly believe it will not be China versus India. No, I think it's China and India. They are complementary, not contradictory. There are certain strengths China has and India doesn't have, and vice versa."
New Zealand's excellence at education is one area that has not yet been sufficiently exploited, he believes. India has only recently enshrined in law the right of every child to receive a free education between the ages of 6 and 14.
"That's wonderful, but where are the teachers? The training of teachers is an area where New Zealand has done a good job. Of course it means we would have to develop a customised model of training, but I'm sure that's not difficult."
Unfortunately for New Zealand, not many Indians realise how good we are at research and development, particularly in areas such as electronics, aviation and green energy, he says. We need to bang our own drum far louder, he urges.
"On one hand it is a lack of awareness on our part and on the other hand it is a lack of drum-beating by you. Where is it propagated that there is such great R&D here? And there is extraordinary work being done here in nutritional food as well. That would be of tremendous value in a country like ours, which still has a large, under-nourished rural population."
That said, India's middle class is already about the size of the United States, he notes.
"There are whole sectors opening up in India, and even defence is now open for private participation, so it offers a new opportunity. Our R&D and outsourcing of R&D is a US$10 billion business already, out of which US$6.5 billion has been captured by global giants, but the rest is available for anybody."
Another US$1.7 trillion is earmarked for spending on infrastructure over the next decade. It is notable, however, that some New Zealand businesses, such as engineering firm Beca, have recently pulled out of India after years of trying to make headway there.
Dr Singhania insists the business environment is rapidly improving, particularly in the southern states.
"I know it's not the simplest place to do business, but a little bit of perseverance and a little bit of patience pays off. Then the fruits are tremendously sweet. Perhaps when they went in things were a little bit hard, but now things are improving, and they are better. I would only advise that they should look again."
His own firm was recently lured to the south when it wanted to set up a new US$300 million tyre plant and he insists the entire process of getting the necessary clearances took just 15 days.
India is gradually decentralising its bureaucracy, and that is paying off, he says.
"Bureaucracy in our country has been an issue for sure. I can't deny it. Ourselves as businesspeople, we have been worried. But the business community has succeeded in India despite it. Having said that, the processes have improved tremendously."
In the southern states, local politicians have ensured that development has roared well ahead of the north, he says.
"The development in the southern states is more than three times the industry development of the northern states. Why? It's the same political umbrella. I am not prepared to believe that the quality of bureaucrats is any different. It is a question of the attitude of their political masters - they are far more aggressive."
And Auckland politicians shouldn't be too smug. In the past couple of years, India has managed to build a world-class train network, underground network, and roading network, he notes.
"It should have been done 10 years back if you ask me as a businessman, but nonetheless having done it now at least we've done a good job of it."
In fact, Dr Singhania spent much of his brief visit trying to get New Zealanders to focus on their own problems.
He spoke openly about what he perceives as New Zealand's onerous welfare burden. "With social security, I know it's not easy to come back, but where is the nation moving?"
He also questioned whether there was enough encouragement for young entrepreneurs. India, for all its faults, had a strong entrepreneurial culture that was starting to pay off, he insisted.
"Graduates nowadays, they want to do technology and then management degrees - it's a good combination. About 35 to 40 per cent of these young people are seeking to start their own business rather than go for jobs. This is a big change. It's a global trend, and this is very, very good news for entrepreneurship. To go out there in the wide world and achieve something - that's important and it's so satisfying."
Dr Singhania's private passions include photography and gardening. He is also a huge fan of motorsport. As a young man growing up in Calcutta, he loved to watch the local races on Sunday mornings.
"When we had the tyre business two things came together in my mind: my love of motorsport, and using motorsport as a launch pad for our products. It was the perfect synergy. Then something else hit me: 'Why don't we have Indians on the world motorsport scene? We must put India on the world motor sport map'. And I'm so glad we have put two in Formula 1."
Meanwhile, a bit of advice for any non-professionals needing a new set of tyres: it might be wise to put a set on the credit card as soon as possible.
Partly due to huge demand in China, and partly due to a strengthening Asian cartel, the price of natural rubber has roughly doubled over the past year. JK Tyre has had to raise its prices four times this year and he doesn't see the situation improving any time soon.
"It is ridiculous; it is out of this world," he says. But his solution is also typical of a man who claims to be largely driven by God, honesty and hard work. "The industry simply has to pull up its socks."
Room to grow
NZ exports
* To India: $630 million
* To China: $3.63 billion
NZ imports
* From India: $355 million
* From China: $6.07 billion
Source: MFAT. To Dec' 2009