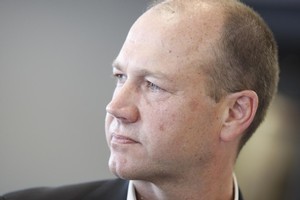 Mark Hotchin Photo / Richard Robinson
Former Hanover director Mark Hotchin has had all his New Zealand assets frozen, after the Securities Commission applied to the High Court at Auckland.
The application was granted without notice to Hotchin last Friday, December 10.
A statement from the Securities Commission says that Hotchin intends to apply to revoke the orders and a hearing is expected in February.
"The action was taken under sections 60G and 60H of the Securities Act with a view to ultimately freezing sufficient property and assets of Mark Hotchin to meet any civil claims that may be brought by investors.
Any such claims would relate to those who invested in Hanover Finance, Hanover Capital and United Finance on the basis of any disclosure documents that are proved to have included untrue statements.
A commission investigation into Hanover has not concluded and the commission said the move to freeze the assets was in no way indicative of civil or criminal liability.
In a statement Mr Hotchin said that although the commission had previously advised the media that it intended to complete its investigation before Christmas, he was only provided with limited details of the scope of the investigation on December 7.
Hotchin's lawyers requested a more reasonable time for a response, and the commission has agreed to extend the time frame for providing that until the end of January.
Securities Commission Chairman Jane Diplock said: "The Commission decided to take this action against Mr Hotchin after deciding it was in the public interest to do so, enabling us to preserve assets from being sold or transferred".
The commission said this was a preventive measure and was "no way indicative of civil or criminal liability or of the Commission's views in that regard."
A power to seek such orders was introduced into the Securities Act in October 2006.
Freezing orders have not been made against any other director or former director of any member of the Hanover group.
The Securities Commission earlier said it had nearly completed an investigation into Hanover and might lay criminal charges against directors in the new year.
The commission said given public and media speculation, it was in the public interest for it to clarify the status of its investigation into Hanover Finance.
"The investigation has been complex and involves a team including investigators, forensic accountants, financial analysts and lawyers. Commission Members, who have been kept informed of progress of the investigation, will meet before Christmas to decide whether criminal charges will be laid against directors of the companies."
"Although no decision has yet been made, it is likely any charges will be laid in the new year."
Property financier Hanover froze $554 million owed to 16,500 investors in 2008. Investors' subsequently approved a moratorium proposal that pledged to pay them back over five years. Then a year later, in December 2009, Hanover investors agreed to swap their Hanover debentures for shares in Allied Farmers.
Hotchin sold his Parnell pad for about $4 million this year and currently has a $30 million Paritai Drive mansion on the market.
It boasts a 12-car garage, seven bedrooms, car wash and wine cellar.
The Serious Fraud Office is also looking into the affairs of Hanover.
SFO chief executive Adam Feeley said his organisation had been conducting an investigation into Hanover which had reached a point where reasonable grounds existed to believe that fraud may have been committed.
"Given the intense public interest and media speculation, it has not been appropriate to make any public comment on this matter until we had a detailed understanding of the issues involved, and the entities and individuals behind the Hanover operation," he said in late November.
"We have undertaken extensive preparatory work and are now in a position to move into a more active phase of the investigation."
The scale of the Hanover collapse was such that it was not feasible for the office to investigate all aspects of its failure, Feeley said, so the probe was focusing on some very particular transactions and specific individuals within Hanover management and board.
Feeley said the office would be interviewing a small group of key Hanover staff and professional advisers to seek explanations of those key transactions.
"The interest in Hanover is such that it is in the interests of all parties to ensure it is carried out with the utmost professionalism and urgency. In addition to a large internal team, and collaboration with the Securities Commission and Registrar of Companies, we have engaged a number of New Zealand's senior legal counsel and leading forensic accountants to assist us," he said.
* The SFO said more than 30 former staff, advisers and directors of Hanover would be questioned.
* Former Hanover directors and executives include: Mark Hotchin, Greg Muir, David Henry, Sir Tipene O'Regan, Bruce Gordon and Sam Stubbs.
* The SFO would look closely at transactions made before the moratorium, including dividend payments to shareholders Eric Watson and Mark Hotchin.

- NZ Herald staff with NZPA